Peter Blair, the QC from Bath who helped bring tax-avoiding celebrities such as Gary Barlow to book, has been appointed by the Queen as a circuit judge.
Mr Blair, pictured, the head of Bristol's Guildhall Chambers for the past eight years, will try civil and criminal cases at Swindon law courts from October 1.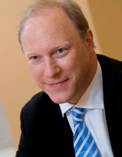 In a 30-year career as a barrister he has developed a substantial environmental law and judicial review practice, becoming a deputy high court judge before accepting his new position.
He also prosecuted for the Serious Fraud Office in the UN sanctions-busting cases concerning the Iraq 'oil-for-food' program.
His wealth of experience in handling document-heavy complex cases involving financial services, tax and fraud, led HM Revenue & Customs to instruct him to lead its legal challenges to 51 so-called Icebreaker tax avoidance schemes. These included one in which Gary Barlow and fellow Take That members Mark Owen and Howard Donald, along with the band's manager, paid £66m into two schemes to harness tax reliefs.
They were ordered by the Tax Tribunal to repay tens of millions of pounds.
In his eight years at the helm, Peter has steered Guildhall Chambers through a period of substantial growth. It now has 80 specialist barristers and a fee turnover of more than £11m.
Among the many awards it has received during his leadership was the prestigious national title of Chambers of the Year in 2011.
His position as head of chambers is taken over by fellow Bath resident James Townsend, a specialist in clinical negligence law and medical disciplinary proceedings.