A firm that restores, repairs and customises Land Rover Defenders – exporting many of them to the US – has secured a seven-figure finance facility from HSBC to safeguard its future.
The funding is enabling Arkonik to continue to take orders despite the coronavirus pandemic. It also means founder and CEO Andy Hayes has been able to provide job security for his 80 highly skilled workers at its base in Mells, near Frome, and its US division, while also paying suppliers and supporting its cashflow.
Andy launched the business – originally called Land Rovers UK – with one vehicle on his home driveway.
After being hospitalised following motorbike accident – which forced him to give up his career in environmental management – his wife bought him a 1983 V8 Defender 100 to repair while he convalesced.
He spent three months restoring it before driving it around Europe. When he returned he rented a 2,000 sq ft unit in Midsomer Norton to start the business.
Within three years it had expanded into its current 40,000 sq ft base, where it was working on around 100 Defenders at any one time, selling around 50 a month, mainly to the UK and Africa.
It changed its name to Arkonik in 2015 and in recent years has expanded further. It has had huge success in the fast-growing US and Canadian markets, helping it achieve a current turnover of more than £10m
Since its launch it has created more than 300 custom-built Defenders, with every part of each vehicle – which sell for an average of £180,000 – custom-made, if required.
Andy said: "We have grown exponentially and now have a customer base across the world. But since the global lockdowns came into effect, all orders in transit to north America have been put on hold."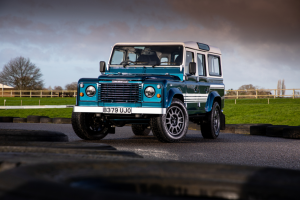 The funding, which was put in place by the firm's HSBC relationship manager Chris Hill, has allowed it to provide much-needed job security to its UK and US teams and enabled it to continue to take orders during one of the most challenging times for businesses everywhere.
The funding is part of the government-backed Coronavirus Business Interruption Loan Scheme (CBILS), which is available for existing customers with a group turnover of up to £45m.
HSBC head of business banking in Bristol, Gloucestershire and Wiltshire, David Butler, said: "Arkonik is a great example of a business that puts both its people and its products at the heart of everything it does.
"Andy and his team have spent years lovingly bringing Land Rover's iconic Defenders back to life and have been rewarded with a global client base and many returning customers.
"With its roots firmly in the South West, our team has been committed to supporting the business during this challenging time and we look forward to seeing its inevitable success in the future."