Three Bath businesses are taking on the national 2.6 Challenge in aid of city charity Julian House to help people experiencing homelessness during the coronavirus crisis.
Bath-headquartered law firm Royds Withy King, The Royal Crescent Hotel and advanced analytics company Actual Experience have signed up for the challenge, which takes place this Sunday, April 26, to help Julian House overcome a massive fall-off in income due to the pandemic.
The charity, Bath's main homeless help group, is facing an estimated loss of £200,000 in income this year.
Organised by mass-participation event organisers including London Marathon Events and Parkrun, thousands of people will take part in the event across the country and so raise much-needed cash for their charity of choice.
Participants in the 2.6 Challenge are encouraged to come up with an activity based around the numbers 2.6 or 26 to raise funds.
It could be something as simple as running 2.6 miles, 26 minutes of yoga, or juggling for 2.6 minutes.
The challenge, which hopes to raise millions for charities nationwide, has been devised in response to the thousands of fundraising events that have been cancelled due to Covid-19.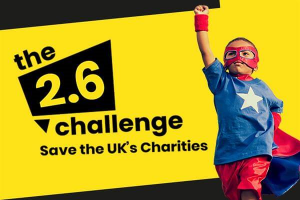 As a result, The National Council for Voluntary Organisations estimates the UK charity sector will lose £4bn in income.
Senior community and events fundraiser Jessica Gay said: "Due to coronavirus, the cancellation or postponement of our fundraising events and the closure of all our charity shops and bike shops, we've predicted an income loss of £200,000.
"This is vital income needed to fund our life saving services including our hostel and domestic abuse refuge. Demand for our services is incredibly high, and we need to keep them open to support vulnerable men and women and save lives.
"We thrilled that Royds Withy King, Royal Crescent Hotel and Actual Experience have all signed up to support us, and hope that many other local businesses and individuals, young and older, will do the same."
To support Julian House's work and sign up to the challenge click here. The site also has unique challenge ideas and a marketing fundraising toolkit.
For more information on The 2.6 Challenge, visit twopointsixchallenge.co.uk
Julian House strives to directly help those most marginalised in society and operates more than 40 projects across the South West from social enterprises to supporting those with learning difficulties. Its work helps change the lives of some of society's most vulnerable people.