Regional accounting and advisory firm Bishop Fleming, which has an office in Bath, has appointed David Lock as director of its growing corporate finance team.
David, pictured, left, with corporate financer Charles Davey, is an experienced corporate finance professional with a lead advisory, banking, debt and equity background working across the South of England, including from bases in Bristol, Thames Valley, London and Gatwick.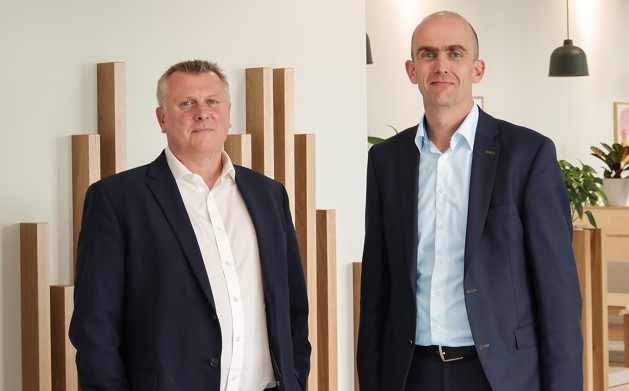 He has previously worked for large institutions such as accountants PwC and banking groups HBOS and Santander, transacting and funding on a range of mid-market deals, as well as nearly six years providing advice to owner-managed small and medium-sized businesses at accountancy group Haines Watts.
Prior to becoming an accountant, he gained a BSc in Architecture from the University of Bath.
David's appointment is part of a recruitment drive that will take Bishop Fleming's headcount past 400 for the first time this year.
David, who is primarily working out of the firm's new flagship office in Bristol, as well as its base in Bath, said: "I am extremely proud to have joined such a fast-growing and forward-looking provider of professional services, that puts the client at the forefront of everything it does.
"There is a huge opportunity to develop our merger and acquisition presence across the South West. After a few years out of the Bristol market, this feels like a homecoming to me and I am particularly looking forward to connecting with my network and developing new contacts in the market."
Bishop Fleming head of corporate finance James Finnegan added: "We are delighted to welcome David to our growing corporate finance team.
"His appointment is the latest in a series of experienced hires that have strengthened the senior team and facilitated extensive growth in Bishop Fleming's client base, particularly across the Bristol and Bath region."
The firm, which also has offices in Exeter, Plymouth, Torquay, Truro, and Worcester, provides services spanning audit, accounting, tax, and advisory services to businesses and private wealth advice to individuals.
It was recognised as one of the Top Five Best Companies' Accounting Firms to Work For in 2021 and is current holder of the British Chamber of Commerce's Business of The Year Award.
Over the past year it has achieved a 7% increase in turnover to £27.9m.