A tourism tax on overnight visitors to Bath looks set to come a step closer – along with a levy on short-term lets such as those provided through Airbnb – as Bath & North East Somerset Council seeks to raise more funds.
While taxes on tourists are common in many popular European destinations, UK cities have shied away from introducing them for fear of damaging their hospitality trade.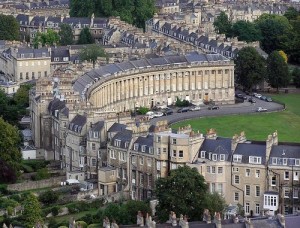 Bath & North East Somerset Council (B&NES) chiefs have in the past been among the UK local authorities most seriously considering such a measure – with a rate of £1 per night per visitor being suggested, which would bring in an estimated £2.4m. The tax would be collected by the accommodation provider.
Oxford and Edinburgh are among UK cities now actively looking to introduce such a levy as, like Bath, they are magnets for visitors and have lucrative tourism industries but often struggle with the additional costs that brings.
A report to go to a full meeting of B&NES this Thursday recommends the council makes a series of requests to central government for more powers to raise money for essential services, including giving the council the ability to introduce levies on tourism and short-term lets.
The report highlights the pressures on local services in B&NES and the impact of cuts in central government funding.
It points out that adult social care and children's services alone now make up 80% of the council's net budget for 2018/19 compared to 66% in 2015/16.
The report also highlights a mix of challenges it says are unique to B&NES. It points out that the council is custodian of a World Heritage Site attracting millions of visitors to the city, leading to significant pressures on services and infrastructure.
The city is "under pressure" from two successful universities and their growing student population which impacts services, it says. As student households are exempt from council tax, an estimated £5m revenue was lost in 2017/18.
The report suggests that rather than ask central government for more money to meet these pressures, the council should urge ministers to consider giving it more powers so it can decide whether to raise more funding for local services.
As well as allowing the council to introduce a tourism levy – "as found in a number of European cities" it points out – it also wants the power to introduce a levy on short-term lets, such as Airbnb, as well as allowing the council to introduce fees for listed building applications.
Council leader Tim Warren said: "At present, we are simply not allowed to raise money in the new ways suggested here, and are too dependent on the funds we receive from Council Tax and Business Rates.
"Residents have frequently expressed their concerns about the constraints placed on the council by central government, and this report sets out new thinking. Crucially, it does not suggest that we should necessarily introduce any of these proposals, but that government should allow us the powers to do so, if we wish, at local level. It's about us asking central government to help us help ourselves- not just going to them for extra money."