Aequus, Bath & North East Somerset Council's housing company, has returned a total of £7.9m to the council in capital receipts and revenue since its launch five years, new figures show.
It has also delivered more than 140 new homes over that period, including 95 apartments at Riverside View in Keynsham, pictured below – which have sold out – and 52 private rented sector units, primarily in Bath city centre and mainly let to city workers and young professionals.
The council set up the company to provide affordable sustainable homes to meet the housing needs of local residents and help finance council services.
As well as its completed properties, nine exemplar low-energy family homes – including two for shared ownership and already sold – are nearing completion on Sladebrook Road, pictured below, seven social rented homes are under construction on Newbridge Hill and full planning consent has been secured for 176 units, including 44 affordable homes, on Midland Road.
Aequus Business Plan to 2023/24 also includes a continued focus on commercial financial returns for the council along with supporting the council to deliver social and affordable housing on council-owned and acquired land, repurpose its void commercial and corporate estate and tackle the climate emergency through low carbon energy efficient exemplar housing developments.
The plans also recognises Bath's Western Riverside East and Midland Road as the council's key housing delivery sites in the medium term and recommends working in partnership with South Gloucestershire Council to bring forward a pipeline of development sites, to ensure ongoing financial returns to the council.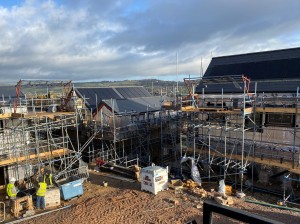 Council deputy leader and cabinet member for economic development and resources Cllr Richard Samuel said Aequus' remit was to deliver much-needed, affordable, energy-efficient homes to buy or rent while providing a financial return to the council.
"The council established its to provide a greater choice of high-quality homes for local people whilst helping to finance key frontline services," he added.
All Aequus developments are designed to tackle the climate emergency by reducing carbon emissions, with new build homes EPC A-rated. The apartments at the award-winning Riverside View are electric only, benefit from additional insulation and a heat recovery ventilation system to reduce energy use.
Properties in Sladebrook Road will be low carbon with energy efficiency measures, such as solar panels, resulting in a minimum 50% reduction in energy costs.
The redevelopment of the former council offices in Newbridge Hill, which will provide the first council houses in Bath and North East Somerset in a generation, will incorporate sustainability measures including replacement windows, additional insulation, low energy lighting and A-rated boilers.