Potholes on Bath's road will soon be filled using a carbon-saving alternative method which will help the city meet its commitment to tackling the climate and ecological emergency.
Bath & North East Somerset Council has invested in a thermal road repair system to help significantly reduce emissions linked to digging up and maintaining roads in the area.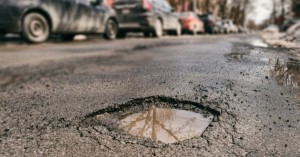 The technology uses an infra-red process which heats the existing asphalt road surface, bringing it to a workable state so it can be recycled and used again.
Additional material is then added, mixed in and compacted to return the asphalt to a high standard.
As the process uses the existing road surface, less new material is needed to make repairs while the process produces zero waste as nothing is taken away for disposal.
Also, by eliminating the need for power tools road, repairs can be made faster, noise levels are reduced and carbon emissions are significantly lower.
Further contributing to the council's net zero goals, the machine and the fully self-contained vehicle it travels in are fitted with solar panels.
The council held trials of the equipment in 2019 and last year before buying its own.
Cabinet assistant for neighbourhood services Councillor Mark Roper said: "We're always looking for new and innovative ways to deliver our essential works while still moving towards our goal of becoming carbon neutral.
"We know that embracing and investing in new and innovative methods like this will help us better tackle the climate emergency.
'After successful trials using this system, we've seen the benefits that it can bring, and we're excited to see it out and about improving our highways."
Council workers have been training on how to use the new equipment and the council is looking to deploy the system this month and hope it will supplement existing road and footway surface repair operations.