Developers behind the UK's first 'urban later living community' planned for Bath are future proofing the scheme in the light of the coronavirus crisis.
Guild Living said changes to the development – which it wants to build on the former Homebase site off Pines Way – will help combat the spread of infectious diseases, such as Covid-19.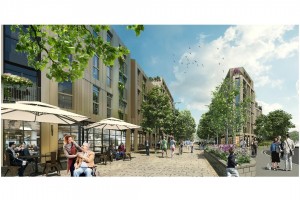 The propsed scheme, pictured, includes 288 residential apartments alongside health, wellbeing and leisure facilities, some of which will be open to the public, as well as 1,800 sq m of office space for lease.
It is one of two announced by Guild Living, a partnership between finance giant L&G and a team of global experts in design, development and wellness, and would pioneer retirement homes, developing them closer to city centres where they could bring together members of the community with different ages.
Residents would live independently but within a safe, purpose-built environment with 24-hour support available if required.
Subject to planning consent, the Bath scheme will include a restaurant, physiotherapy gym and pool, wellness centre, children's nursery and retail spaces for local businesses.
However, the devastating impact of Covid-19 on residential and care homes has led to Guild Living to redesign parts of the scheme.
Between March 2 and June 12, some 29.3% of all deaths of care home residents involved Covid-19.
This was due, in part, to the traditional layout of later-living homes with shared communal spaces. As a result, operators found the virus was difficult to contain, putting some of the most vulnerable members of society at serious risk from infection.
Guild Living will now split areas at its Bath development into 'households' where residents can live in small groups, minimising risk and allowing separation where required without the need for total isolation.
Each living area will also have several lounge and activity spaces, allowing residents to stay active, with flexibility for greater distancing when needed. The design will also allow Guild Living to isolate and reconfigure areas to assist with air flow and distancing.
As well as helping ensure the safety of residents if Covid-19 is prevalent in the development, it will also mean other contagious illnesses such as flu and norovirus should be able to be contained.
Guild Living has introduced a programme called the Guild Shield aimed at protecting those who live, work and visit their communities and making them as safe as possible.
Guild Living co-founder and director Eugene Marchese said the flexible design of its communities meant that social distancing could also be readily put in place if it's needed.
"Self-isolation has been a key aspect of responding to Covid-19. Those who live independently in Guild residences have their own kitchen, dining and living areas so they can comfortably self-isolate if required," he said.
"We're acutely aware of our responsibilities to our communities. Our in-house knowledge is built on the experience that team members have gained from working in the care sector around the world."
Mr Marchese said the Covid-19 crisis had enabled Guild Living to "ask the right questions to start creating answers". The experts who work with the firm are currently undertaking extensive research and development on the firm's behalf.
"The Guild Shield is headed by leading epidemiologists and scientists in the field of disease control and covers many different, carefully planned initiatives," he added.
"We're establishing protocols and practices, including the use of bespoke technology and biosecurity, enabling us to put in place rigorous measures to control infections and the spread of viruses.
"Before Covid-19, our teams had already been working on a unique programme to create wearable technology. Originally, this was part of our commitment to providing high-level, holistic health and well-being, including measuring heart rate and blood pressure, helping to prevent falls, changes of movement and more.
"The technology has now taken on even more significance as it can be used to measure body temperature, acting as early indicator of possible infections and allowing us to help minimise the spread."
Guild Living plans to develop more than 3,000 new later living homes over the next five years, giving it a gross development value of around £2bn.
Guild Living bought the 4.5-hectare former Homebase site from owner British Land for £13.5m. It said the scheme represented a first step towards tackling the chronic under supply of later-living accommodation in Bath.
Quoting Office for National Statistics (ONS) data, it said there were more than 100,000 people over the age of 65 within a 10-mile catchment of the new site.
The scheme will also create up to 160 full-time jobs and contribute towards Bath and North East Somerset (B&NES) Council's five-year housing supply targets for the area, said Guild Living.
It would also act as a catalyst for the future regeneration of the wider area as defined in the council's recently adopted placemaking plan, it said.