A Bath boutique hotel has landed two major industry awards at the end of a year during which it suffered a fire just hours after being forced to close in the first national lockdown while its owners also caught Covid-19.
The four-AA-star, 29-room hotel Queensberry Hotel was named Independent Hotel of the Year at the 2020 Cateys Awards, with the judges describing it as "the epitome of a well-run, independent hotel".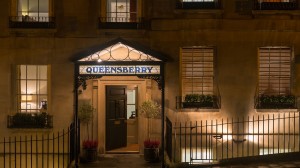 The awards are staged by The Caterer magazine to 'recognise the most talented individuals, biggest brands and the strongest performers in the hospitality industry'.
Meanwhile Owen Farr, restaurant manager of the Queensberry and its Michelin-starred Olive Tree restaurant, was named among the winners of the magazine's Acorn Awards, which champion the industry's most talented stars aged under 30.
Queensbury owners Laurence and Helen Beere, pictured below, are no strangers to awards, having collected many over the 20 years they have owned and managed it.
But while they have grown used to the challenges of building up a celebrated boutique hotel, nothing could have prepared them for what they have had to cope with this year.
Having invested £1.3m in the hotel in 2017 and extensively renovated the Olive Tree in 2019 – a year after it received its Michelin star – the business enjoyed its most successful year.
Occupancy during the summer months of 2019 was 90%, with average room rates rising by 1% to give a revenue per available room increase of 6.3%.
Meanwhile, restaurant bookings across the year increased by 40% while the Beeres consolidated a new marketing plan to help build the hotel's direct bookings, achieving significant financial success as a result.
Alongside continual financial investment, the couple's focus was very much on creating a supportive environment for their dedicated 40-strong staff, with team bonding events including meals out, bowling, picnics and a summer barbecue at the Beeres' home.
Every member of staff is also encouraged to stay in the hotel and dine in the restaurant with a partner or friend twice a year.
Having achieved such a strong performance last year, the Beeres' expectation was that 2020 would be even better.
But having closed its doors for the first time since they took over the hotel, due to the first national lockdown, just four and a half hours later a fire sparked by an incorrectly wired extractor fan ripped through the hotel's kitchen.
Having reopened following an additional £500,000 investment for repairs, both Laurence and Helen and their daughter Alice were diagnosed with Covid-19 at the end of September.
Now everyone fully recovered, the hotel is looking forward to a positive 2021.
Cateys category judge David Morgan-Hewitt, who is managing director of The Goring luxury hotel in London, said: "Year after year The Queensberry has continued to blossom with new offerings, new decorations and new awards.
"The Beeres have grown this business organically and they have ploughed everything they have and everything they are into it and the result is an amazing and successful small business in the middle of a very crowded hospitality market in Bath. The Queensberry is a shining example of the very best of hospitality in our country."
Laurence Beere added: "Helen and I believe that this is a good business and that is why we have kept fighting, despite everything that has been thrown at us in the past few years, and certainly this year.
"We stand with all of our eminent hospitality colleagues in being committed to making the most of the unexpected lessons that 2020 has 'gifted' us.
"Our industry has been through the deepest of challenges and I will be forever grateful to our totally dedicated Queensberry and Olive Tree team players who are rising with us to meet these challenges as we all set forth into the future.
"We are delighted beyond belief, and at the same time, remarkably humbled, to have received this industry recognition, especially in 2020.
This has most certainly been 'a year like no other' for all of us and we're excited to roll out our 2021 plans."
Due to lockdown restrictions, this year's Cateys and Acorn awards presentations took place as a live virtual ceremony.