Plans to develop a hub for Bath's burgeoning creative sector, potentially generating up to 300 jobs, have taken a leap forward with the official launch of the Craneworks project.
The ambitious £15m scheme aims to regenerate the derelict Stothert & Pitt factory buildings on Lower Bristol Road into a world-class centre for innovation in the creative industries.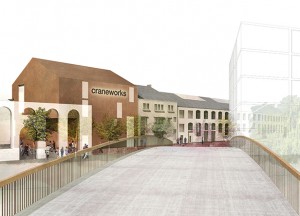 Those behind the project see it as making Bath a world contemporary city built around its creativity as well as a world heritage city.
While Bath has a vibrant and pioneering creative industry with many of its agencies and consultancies working on a national and often international basis, it has never had a centre that can bring these firms together to spark ideas and encourage new businesses to start up.
If it goes ahead Craneworks will provide 35,000 sq ft of warehouse-style workspaces for creative, digital media and technology businesses of various sizes – providing the city's first home for its many businesses operating in the sector. A building of this size could create in the region of 250 to 300 jobs.
It will also provide conference, screening and exhibition facilities for these and other businesses to share their ideas, knowledge and products with the world.
In total this could add around £25m a year to the local economy. Bath's creative sector is already estimated to be worth around £148m – more than its tourism and retail sectors combined.
A spokesperson for the Craneworks project, which is made up of leading figures in Bath's creative industries, said: "We have already received serious expressions of interest from several local and international businesses actively looking for creative workspace in Bath.
"Craneworks will create a cutting edge centre for invention where thousands of local people from all backgrounds – including children and young people – can come together to be inspired and to learn to create, invent and make.
"It will provide clean and dirty making spaces and exhibition spaces for art, design, film, technology and good old-fashioned 'hands-on' making. It will also teach business and enterprise skills.
"Craneworks will re-skill, up-skill and future-proof local people to get jobs in creative, engineering and technology businesses or start businesses of their own."
The West of England Local Enterprise Partnership (LEP) has identified Craneworks as a key part of its ambitions for the future of Bath's economy.
Craneworks has been set up as a Community Interest Company (CIC) – which means any profits are ploughed back into the project.