Bath's tourism and hospitality sector could get a boost from thousands of extra visitors this year as the first cruise liners since the pandemic arrive in the region.
Royal Portbury Dock, near Bristol, has been chosen by Ambassador Cruise Line as a stop-off point for its new ship Ambition, which will make six visits, bringing a total of more than 7,400 holidaymakers.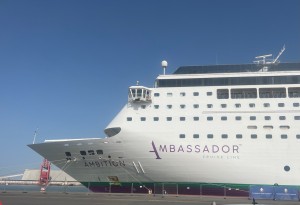 Ambition's visits are in addition to eight by other cruise operators this year, boosting the region's position as a popular berth for liners.
Royal Portbury Dock, which along with nearby Avonmouth Docks is owned by The Bristol Port Company, was a regular destination for cruise companies for several the decades before and after the Second World War.
But visits dwindled as package holidays took off in the 1960s and 1970s and, despite efforts to attract put Bristol back on the cruising map over the past 15 years, it has not regained its former popularity.
The pandemic's devastating impact on the cruise industry also put paid to all visits by liners for the past three years – making this week's visit by Ambition all the more significant.
Ambassador Cruise Line, which was launched just over a year ago, specialises in premium value, no-fly cruises. Ambition, its second vessel, can carry up to 1,200 passengers in 680 cabins, 125 of which have balconies and 113 of which are suites.
Passengers on the ship, which was previously used by a number of other cruise lines, have the choice of two main restaurants and a casual bistro-style café, four bars, lounges and pub, a theatre, card room, library and craft studio.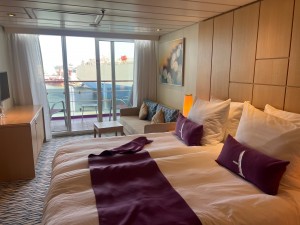 Other facilities include the wellness centre, gym, two swimming pools and a range of shops.
The ship's visit to Bristol this week was the start of its maiden voyage – an 11-night cruise around Britain with a stop in Honfleur, Normandy – after being refitted to ensure it meets the highest industry emission standards, putting it among the top 10-15% of the most environmentally friendly cruise liners.
The Bristol Port Company director James Stangroom said: "We are excited to welcome Britain's newest cruise line to Bristol Port, giving local residents a quality range of no-fly cruises from the port."
The Bristol Port Company believes as the country's most centrally located cruise terminal and with excellent and uncongested motorway and rail access, it can once again become a major destination for liners.
It points out that Bristol is the only port from which Highclere House – home of TV's Downton Abbey – is easily accessible. It is also the closest port to Bath, while classic English countryside tours and excursions to Welsh castles can easily be made as half or full-day outings.
Visit West managing director Kathryn Davis said Ambition's visits would create new opportunities for the visitor economy in the region.
"Not only does her schedule allow for those locally to enjoy exceptional experiences, but also benefits international visitors and those from within the UK who can combine their cruise with a stay in the Bristol and Bath area beforehand," she added.
Ambassador CEO Christian Verhounig said the company had firmly established a unique premium value offering and was now "renowned within the cruise sector for offering the warmest welcome at sea".
He added: "We have long been looking forward to celebrating the official launch of sailings from Bristol onboard our second lady of the sea, Ambition.
"Adding another ship to our fleet is evidence of the strength of both Ambassador and the wider cruise industry."
He said demand for sailings from the West of England had been very strong, indicating that holidaymakers saw a holiday as a necessity, not a luxury, and were eager to get away.
"Given the current economic climate, our premium value, no-fly offering is proving very popular with new-to-cruise customers and seasoned cruisers alike," he added.
"Our no-fly holiday options have proved a real hit, with guests telling us that they love driving to a port, parking their car and boarding our ships with a minimum of hassle – and that's without mentioning how they can avoid airport queues, flight cancellations, baggage limits or exchange rate fluctuations when sailing from the UK, where the currency onboard the Ambassador fleet is in pounds."
Ambassador Cruise Line's six planned sailings on Ambition from Bristol from now until November include a winter cruise to the Canary Islands and Morocco and a 'Northern Lights' trip to Norway.
Ambassador cruises also depart from London Tilbury – Ambassador's home port in Essex – Newcastle upon Tyne, Dundee, Edinburgh Leith, Falmouth, Liverpool and Belfast.