Gerraint Oakley, managing director of Bath-based housing firm Curo's housebuilding business, is cycling around 1,000 miles from John O'Groats to Land's End in a bid to raise £5,000 for the Royal United Hospital (RUH) children's ward.
The iconic 'end-to-end' journey will take nine days, with Gerraint setting off from John O'Groats on Friday July 12 and arriving at Land's End on Saturday July 20.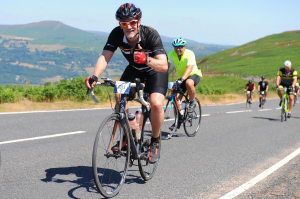 Gerraint, pictured, will cycle on average more than 100 miles a day and will be joined by a friend and Curo colleague who will be driving a van for the whole journey to provide support.
The Royal United Hospital (RUH) Bath Children's Ward is Curo's chosen Charity of the Year for 2019. Every year, tens of thousands of children receive care and treatment at the RUH. Some go in for routine operations, others for therapy to help them cope with disabilities and other chronic illnesses.
Charitable support helps make life better for these children and their families.
Gerraint is calling on all housing associations up and down the country to join him on this challenge. He added: "Wouldn't it be great if colleagues from housing associations across the country would join in to help raise money for the amazing charities they're supporting.
"Aside from helping some fantastic causes, it would also be an opportunity for us to increase awareness of our sector, connect with colleagues and have some fun along the way.
"We're fundraising to help the ward provide additional services, facilities and equipment for the thousands of children they treat every year.
"I know this is a cause very close to many of our colleagues' hearts and everyone is making an effort to get involved in fundraising – from bake sales to walking and running marathons and, of course, donating."
Colleagues from the sector are welcome to join Gerraint on his journey across Britain either for the whole challenge, or any of the nine stages.
To take part contact CuroHomesAdmin@curo-group.co.uk for more information. To donate, visit www.justgiving.com/fundraising/curo-cycle-ride