Bath City Farm has been chosen by employees of housing association and developer Curo as their charity of the year for 2022.
The farm, which is set in over 37 acres in Twerton and is home to chickens, goats & pigs, provides education, environment conservation, support for people who have mental health issues, living with disabilities or are otherwise facing adversity.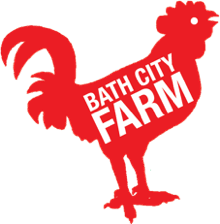 Staff at Bath-headquartered Curo raised almost £12,000 for their 2021 Charity of the Year, Time is Precious.
The family-run, Radstock-based charity fundraises to equip children's hospital wards with stress-relieving equipment, making a stay more relaxing for them and their family.
Curo staff brought a total of the total of £11,852 through sponsored hikes, quizzes, a cycle challenge, raffle and a competition to name its vans.
Curo communications manager Rachael Allen said: "We're so pleased to be supporting Bath City Farm with our fundraising this year. They do such amazing work to help and bring enjoyment to the local community.
"Colleagues are busy planning lots of fundraising activities including the Bath Half-marathon, the Three-Peaks Challenge, competitions, quizzes and raffles."
Bath City Farm communications co-ordinator Alison Howell described Curo's involvement as wonderful.
"The Curo team have already offered to help us with fundraising, publicity and practical tasks, so their support really will make a tremendous difference to the community and animals at Bath City Farm," she said.
Curo manages more than 13,000 homes across the region and builds hundreds of new ones a year. Its flagship 700-home Mulberry Park development on former MoD land on Bath's outskirts includes community facilities and open spaces as well as a range of homes for sale and social rent.
To find out more about Bath City Farm, or to support Curo's Charity of the Year appeal, visit www.curo-group.co.uk/charityoftheyear
Pictured: Curo communications officer Becky Davies, left, and Bath City Farm communications co-ordinator Alison Howell with the farm's miniature pony Dougal