Bath-based housing association Curo has been praised by the Mayor of Bristol for "putting residents and the environment first" in its new affordable homes scheme in the city.
Curo has struck a deal with Bristol specialist social housing developer Autograph Partnerships to provide 32 affordable homes in the Old Market district, close to the city centre.
The scheme, pictured, has been designed by Bristol-based NOMA Architects and will be built by Autograph Partnerships for Curo.
Work on the Midland Road site has just started and Curo anticipates the homes will be ready for occupation by summer 2022.
The majority of the one, two and three-bedroom apartments will be let to people on Bristol City Council's housing list – 16 at social rent and nine at affordable rent. Another seven apartments will be sold through the Shared Ownership affordable home ownership scheme.
The homes will also be among the first to be connected to Bristol's pioneering Heat Network, providing future Curo residents with affordable, low-carbon heat and energy.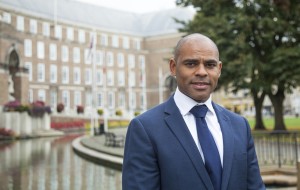 Mayor of Bristol Marvin Rees, pictured right, said: "We have an ambitious target in Bristol to become carbon neutral by 2030 and our heat network infrastructure is a fundamental part of achieving this.
"Curo's new affordable homes in the Old Market district are a great example of local authorities and housing associations working together and doing their bit to put residents and the environment first.
"I look forward to seeing these homes completed and I'm pleased that their future residents will benefit from greener and more affordable energy."
Curo will invest more than £5m in the scheme. The firm, which is behind Bath's 700-home Mulberry Park development on the former Foxhill MoD site, has also secured just under £1.8m of grant funding from Homes England to deliver the scheme.
Curo chief executive Victor da Cunha, pictured below, said: "A successful, growing city such as Bristol needs to have the widest possible range of good quality housing in high-value areas, such as the city centre, not only to meet the housing needs of its diverse residents but also to continue to be successful into the future.
"Lockdown has reminded us about the importance of 'home' and that society functions best when our bus drivers, care workers and shop assistants live locally and are part of the community.
"These Curo homes will allow these essential workers, as well as many others, to rent affordably or to buy low-cost housing near their place of work, near their family or other support networks in a way which might not otherwise be possible for them.
"We need to do much more affordable housing in these generally much more expensive parts of the city if we are to continue to be a successful place to live. I'm delighted Curo are playing their part in making this happen."
Autograph Partnerships managing director Simon Taylor added: "We are delighted that our Partnerships arm has been able to unlock this site for Curo. We are now looking forward to delivering a quality affordable scheme and building on our reputation as a trusted developer partner."
Mr da Cunha added that being part of the Bristol Heat Network will mean lower heating bills for the scheme's residents compared to a conventional boiler system.
The district heating scheme, now under construction in Old Market, supplies homes and businesses with heat and electricity from more sustainable sources, including biomass and water source heat pumps, which integrate the production of heat and electricity into a single process, reducing carbon emissions and increasing efficiency.
The infrastructure will enable a move towards renewable energy alternatives over time, progressively reducing the carbon footprint of the homes.
The network is a Bristol City Council initiative and forms part of the city's wider commitment to address the climate emergency and become carbon neutral by 2030 – an ambition that puts it ahead of most other UK cities.
Mr da Cunha said: "It's great to know that, as the city will increase its reliance on renewable energy over the coming years, these homes will be perfectly placed to take advantage of greener energy and contribute to achieving Bristol's carbon neutral commitment."
Curo manages more than 13,000 homes across the region and builds hundreds of new homes a year.