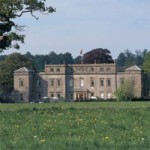 Wednesday's Budget and its impact on Bath businesses and individuals will be on the menu at the latest Meet the Press breakfast at luxury hotel Ston Easton Park, which takes place the following day.
The series of events are aimed at business leaders and owners with guest speakers Robert Buckland, editor of Bath Business News and its sister titles Bristol Business News and Swindon Business News, and Philip Welch, editor of Mid Somerset News & Media, who discuss media issues with guests at the breakfast.
The informal breakfast discussion takes place between 7.45am and 10am at the four-star hotel in the Mendip Hills between Bath and Wells.
Topics explored at the events include; what makes a newsworthy story, why some press releases are used and others aren't, and how to get the attention of the media to benefit your business.
Similar events will be staged over the coming months looking at various aspects of business with a view to inspiring growth in difficult economic times.
These gatherings will feature top-name speakers who will share their expertise with attendees.
Places are £15 including breakfast. To book, phone 01761 241631, email linda.williams@vonessenhotels.com or visit www.stoneaston.co.uk for further details.