Bath-headquartered residential developer Crossman Homes is leading a project to convert a derelict swimming baths in Bristol into much-needed social housing.
The firm has teamed up with Somerset-based Yarlington Housing Association to create 31 affordable homes for local people on the site of Speedwell Swimming Baths, pictured in a CGI.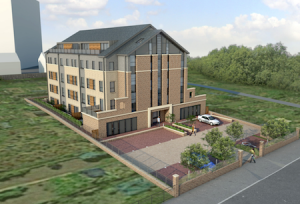 The baths were built in 1937 but closed permanently in 2005 when deemed surplus to requirements by Bristol City Council.
Only the metal roof structure remains of the original interior exists. As a result, conservation and repair of the existing baths was described as "wholly unrealistic" by representatives of Historic Pools of Britain.
Crossman Homes managing director Brad Hughes, pictured with fellow director Simon Ellis, said: "We are delighted to be leading this exciting development, which will provide much-needed social housing for the area.
"The site has been vacant since 2005 and has become a dangerous eyesore, attracting anti-social behaviour which has been a real concern to the local community."
Since 2005 two plans to redevelop the site for residential purposes have not gone ahead for financial reasons. Crossman Homes will now build a mixture of one, two and three-bedroom apartments on the site, with work expected to start next spring.
Bristol City Council cabinet member for housing Cllr Paul Smith added: "The Speedwell Swimming Pool site was sold in 2006, so I am pleased to see it is finally being developed. It is important that we make the best use of land across the city and not allow sites to be left empty for too long.
"There was initially only going to be four affordable properties on this site, so this is another great example of how our grant funding can help support the construction of more affordable housing, which will be available for those who need it most."
Working closely with Angus Meek Architects and Bristol City Council's design and planning team, the new five-storey development has been designed to enhance the area, reflecting the style and shape of the existing building in a contemporary way.
Yarlington Housing Group head of development Wyn Bevan added: "We are delighted to be working with Crossman Homes and to have received grant funding from Bristol City Council to build 31 much-needed affordable homes.
"As disused, existing developed land we are able to deliver much-needed homes and help solve the city's housing need without putting pressure on an expanding city."
Crossman Homes was advised on the deal by Bristol solicitors Temple Bright. Real estate partner Amelia Douchet said: "It was a pleasure and a privilege to be involved in this project, which will rejuvenate a significant local site for a truly creative and practical purpose."
The Speedwell Baths project is Crossman Homes' second this year in east Bristol to re-use a high-profile but derelict building. In October the firm announced it had saved the Whitfield Tabernacle in Kingswood – one of the UK's most at-risk Grade One listed buildings – as part of its housing development on a neighbouring site.
The tabernacle, which dates back to 1741 and is widely regarded as the birthplace of the Methodist movement, could soon be renovated and redeveloped as a community space.