Bath advanced engineering firm Rotork has ended its six month search for a new CEO by making an internal appointment.
Kiet Huynh,
pictured,
currently managing director of the group's water & power and chemical, process & industrial (CPI) divisions, has taken on the role with immediate effect. He also joins the Rotork board.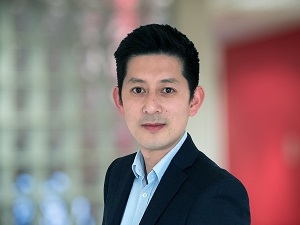 Kiet, 42, graduated with a Masters in Mechanical Engineering from the University of Birmingham in 2001.
He has more than 15 years' experience working as a senior executive for world-leading industrial companies including IMI and Trelleborg, where he was general manager of its sealing solutions business in Tewkesbury.
He joined Rotork, which makes specialist valves for the global oil, gas, water and chemical industries and is Bath's largest manufacturing company, in 2018 as managing director responsible for the instruments division.
Following a restructuring in 2019 of the group, which has 22 factories across the globe, he has led the water & power and CPI divisions, which together represent more than half of Rotork's revenues.
Born in Vietnam, he is a UK citizen and lives in Bristol with his family.
Rotork's hunt for a new CEO started last August when Kevin Hostetler informed the board of his plan to step down from the post and return to the US.
Mr Hostetler, pictured, joined Rotork in February 2018 from US telecoms and engineering consulting firm FDH Velocitel and was widely viewed as transforming the fortunes of the group over the past few years.
Rotork's share price dropped by 6.5% on the announcement of his departure, although he stayed on to support a the transition to a new CEO.
Rotork chairman Martin Lamb said: "I am delighted to have in place a candidate of Kiet's calibre to succeed Kevin as CEO.
"During his time with Rotork, Kiet has excelled in the leadership of both the CPI division and, more recently, the water & power division, with a clear focus on driving profitable growth through close attention to customer needs and a strong commitment to product and service innovation.
"He has the leadership skills and operational experience to build on the excellent progress made over the last four years through the Growth Acceleration Programme, and to chart a course for accelerated growth in the years ahead.
"I would like to thank Kevin for his excellent contribution to the business. He hands over a fundamentally much-improved company to his successor. We wish him and his family every success on their return to the US."
Kiet added: "I am very proud to have been appointed CEO of Rotork. The group is a world-leading business, with a clear purpose and strategy, talented and dedicated people and great potential for growth to enable a sustainable future.
"I have spent most of my career in the flow control and instrumentation sectors, delivering high-value solutions and services to customers and end users, including the last four years heading divisions of Rotork.
"I look forward to leading the team to drive growth and leverage the benefits of the Growth Acceleration Programme."
Kevin Hostetler said: " I have greatly enjoyed my time at Rotork and working with Kiet over the last four years. I wish him well in his new role and will continue to support him however I can."
Rotork will publish its full-year results for 2021 on March 1. Its Growth Acceleration Programme aims to optimise its factories and rationalise its supply chain.