EasyJet passengers travelling via Bristol Airport this Christmas are being asked to donate their loose change and unwanted currency to UNICEF's Change for Good charity campaign.
All money raised will go to the children of Syria, who face a third winter in crisis.
The campaign will last for six weeks and all public donations will be matched pound for pound by the UK Government – part of its wider support for UNICEF's work in Syria in what is currently the largest humanitarian operation in history.
More than 40,000 passengers are expected to travel via Bristol with easyJet over the Christmas period.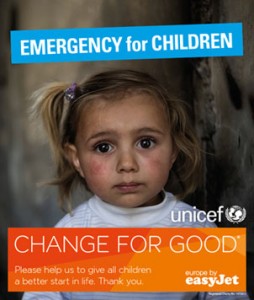 The budget airline's chief executive Carolyn McCall said: "We are pleased to launch our second winter appeal in aid of UNICEF and help raise much needed funds for children in Syria.
"Thanks to the match funding pledged by the UK government we have the opportunity to make a big impact through onboard donations and would like to thank our passengers in advance for the generosity they always show."
International Development Secretary Justine Greening added: "Millions of Syrian children have been forced to flee their homes and are now facing a long, bitter and miserable winter. The British public has already responded incredibly generously and I am sure that many of those flying with easyJet will want to do what they can to help."
UNICEF, one of the few agencies operating in Syria and the five neighbouring countries, is working on the ground to provide blankets, warm clothes, water, medicine and psychological support to prevent a whole generation of Syrian children being lost to the conflict.
Close to 6m Syrian children, more than 1m of whom are refugees, are in urgent need of aid. They are living in desperate conditions and face a bitter few months ahead, when temperatures can fall as low as -6.
UNICEF UK executive director David Bull said: "This is a desperate time for the children of Syria. As winter sets in, temperatures are plummeting and makeshift homes are at risk of flooding from heavy rain. As a result, children are at increased risk of disease, pneumonia and malnutrition. Many fled their homes with only the clothes on their backs and are in urgent need of warm clothing and blankets to protect them from the freezing cold. We're grateful for every pound raised from easyJet passengers and for the UK Government's support with match funding to help the millions of Syrian children who are suffering so much this winter."
The Change for Good partnership between easyJet and UNICEF has raised more than £2.1m through passenger donations since it launched in July 2012. This will enable UNICEF to vaccinate 3.3m children and mothers against deadly childhood diseases and maternal and newborn tetanus, and protect 2m children from polio.
For the past month, easyJet has been supporting UNICEF's Typhoon Haiyan children's emergency appeal following the recent tragedy in the Philippines.