Bath-based utility Wessex Water's community fund has handed out its first grants supporting 12 projects across the West of England.
The fund is managed by Quartet Community Foundation and aims to support community cohesion projects and bring communities together across the region. It offers grants of up to £1,500 to smaller community groups and charities.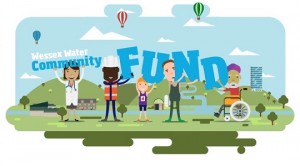 Among the Bath area recipients are Carers Centre B&NES, which will put its £1,500 towards the cost of running 10 supportive carers cafés for carers in deprived areas of Bath & North East Somerset, Community Unity Bath has received £1,000 towards running costs for a new stay-and-play group in Foxhill and Bath YMCA has been awarded £1,500 towards improving communal spaces in its young people's housing to encourage community and reduce isolation.
David Trumper from Carers Centre B&NES said: "Our Carers' Cafés help carers connect with others and reduce isolation. One carer reconnected with an old friend who they had lost touch with when their caring role became full-time. Meeting others in the same boat helps carers feel more supported and this in turn makes it easier for them to carry out their caring role."
Wessex Water head of community engagement Kirsty Scarlett: "We are very pleased to be working with Quartet Community Foundation, who are experts in identifying and supporting local projects that make a real impact.
"The applications for funding were very interesting and featured different ways of working with marginalised groups to achieve community cohesion. We are very pleased to have funded 12 community focused projects from all across the area."
Quartet Community Foundation was formed in 1987 and has distributed more than £49m to good causes during its three decades in line with its mission to help give everyone across the West of England a fair chance of a good life.
Foundation chief executive Sue Turner said: "We are very pleased to be working with Wessex Water to help it support local communities. This is just one of the many corporate funds we manage for the West of England and these partnerships help companies such as Wessex Water offer real community benefits where they operate."
The Wessex Water Community Fund opens for applications once a year and will re-open in Autumn 2019. For more information visit www.wessexwater.co.uk/community