IT support firm Systemagic has appointed two new employees to its team as it continues a year of growth.
Hayley Dixon takes on the new role of business and finance administrator at the Bradford on Avon-based firm while Emily Rigg becomes its first female technician.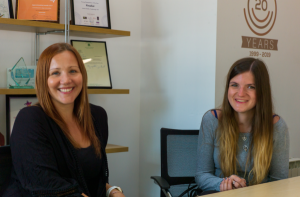 Hayley has more than 10 years' experience in customer-facing roles and, after running her own cake business, is now looking for a new challenge.
She will be responsible for managing accounts and ensuring efficient operations of the business.
Emily previously completed a Business Administration apprenticeship and worked for the NHS, but is now following her passion for IT.
Her arrival forms part of Systemagic's bid to improve its industry-leading response and resolution times as it starts its 20th year in business.
Systemagic managing director James Eades said: "Both Emily and Hayley are already thriving in their new positions and have been warmly welcomed by the rest of the team. Our plan is to grow by another couple of people this year as we continue to welcome many new clients onboard to our services."
Systemagic provides IT support, cloud computing and connectivity solutions to a range of customers including Norland College, Whatley Manor, Halsall Construction and Bath Cats & Dogs Home.
Pictured, from left: Hayley Dixon and Emily Rigg