Forming a Western Powerhouse for a region stretching from Swindon to Swansea with Bath in its centre could boost the economy by billions of pounds and create lucrative global trade opportunities, a major new report published shows.
By working together on maior infrastructure schemes and promoting international trade post-Brexit, towns and cities along the M4 and M5 could gain the economic benefits now enjoyed by the Northern Powerhouse and the Midlands Engine, the research shows.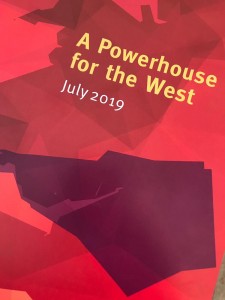 The Powerhouse for the West report was commissioned by the Great Western Cities partnership of Bristol, Cardiff and Newport councils. It was presented to senior politicians, business and education leaders at the House of Lords at an event hosted by Lord Bob Kerslake of the UK2070 Commission, which has carried out research into the impact of regional economic partnerships.
It has been welcomed by Bath & North East Somerset Council leader Dine Romero, pictured, who said it was an opportunity to work together with adjacent local authorities.
We have wider ambitions for the region to be an exemplar for tackling climate emergency and actively proving its green credentials," she said.
Working together as a regional powerhouse could help to secure significant investment in areas like sustainable infrastructure in order to make a significant impact on the fundamental issue of climate emergency."
The report sets out recommendations to supercharge the economy in the West of England and South Wales – a region that boasts a £107bn economy and spans seven cities, 4.4m people, 10 universities and 156,000 businesses.
It highlighted five key areas of collaboration:
an industrial strategy linking sector strengths;

integrating road and rail improvements to enable faster connectivity;

an internationalisation strategy which promotes the region's industrial strengths;

establishing a productivity and innovation observatory which makes better use of our data;

piloting and measuring tailored approaches to connecting the most deprived communities with the region's highest growth sectors.
The potential powerhouse – which is yet to adopt a formal name – would stretch along the M4 corridor from Swindon and across the Welsh border to Cardiff and Swansea, and in the north from Gloucester and Cheltenham to Bath and Bristol.
To support this venture the Great Western City partners have been joined by Bath & North East Somerset, Gloucestershire County, Swansea and Swindon councils.
The report says collaboration would turbo-charge growth in the region, not rebalance the economy and puts a focus on developing key strengths to stimulate that growth.
It points out that the region already has strong transport links, included two major arteries running across its entirety – the M4 and Great Western rail line – intersected by the M5 just outside Bristol.
As a result, it is uniquely positioned to develop and support trade growth in a way which could be complementary to existing local and regional strategies.
Mayor of Bristol Marvin Rees has also welcomed the report and stressed the potential for boosting international trade and overcoming the mismatch between areas of employment growth and deprived neighbourhoods.
"Our ultimate vision is to create a serious, long-term, cross-border partnership. We already export £18.4bn of goods and £11bn of services every year – we want to further promote our excellent trade and investment opportunities by developing an internationalisation strategy," he said.
"In a post-Brexit world, export-based growth will be of huge importance to economic development and this collaboration has the potential to ensure this region competes with high growth regions around the world.
"Achieving this will mean unblocking the bottlenecks across the M4 and M5; connecting people and communities in our most deprived areas with skills and employment opportunities."
The report highlights the region's unique strengths in advanced engineering, creative and digital media, finance and professional services and how growth areas around clean energy and health and life sciences would benefit it further.
Metro Dynamics is an economics and public policy consultancy that provides strategic advice to those leading, growing, or investing in cities and places.
Its work has included commissions from the Midlands Engine and Convention of the North, helping to develop visions for powerhouse areas, as well as local industrial strategy support for combined authorities and local enterprise partnerships.
Pictured: Council leaders, including, second left, Mayor of Bristol Marvin Rees, at the Western Powerhouse report launch