Bosses at Bath's largest manufacturing company Rotork have hailed its resilience over the past year and said, despite a small drop in profits, it was well placed to benefit from the post-pandemic recovery.
The firm, which makes specialist valves for the global oil, gas, water and chemical industries, suffered a 9.7% reduction in sales in 2020 to £604.5m as coronavirus shut down large swathes of the world's economy.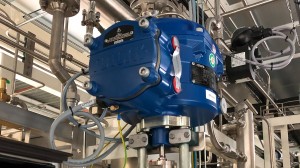 That sparked a 14.7% fall off in new orders to £590.2m during the year – although the group said it saw signs of recovery during the final quarter. Annual pre-tax profits came at £122m, 1.6% down on 2019.
Chief executive Kevin Hostetler said: "Rotork delivered a resilient performance in an unprecedented period. Our Growth Acceleration Programme continued to deliver planned benefits, despite the challenging external environment, and we took the opportunity to bring forward some actions scheduled for later years."
Chairman Martin Lamb said Rotork's purpose – to keep the world flowing for future generations – "could not have been more apposite than in 2020".
He added: "Our products and services are relied upon to keep critical processes operating – from the water we drink, to the energy sources that keep us warm and provide essential transportation, to industrial processes providing critical consumer products and services. These are all accomplished with a determined and passionate focus on safety, efficiency and environmental sustainability."
He described the response of Rotork 3,500 employees across the world to the challenges of the past year as magnificent.
"Not only the efforts of our people, who have demonstrated enormous fortitude, but also of our customers, our suppliers, and the local communities in which we operate.
"I am particularly proud of how Rotork team members have stepped up to help those in their communities less fortunate than themselves, providing support through distributing personal protective equipment, food parcels and charitable donations."
The firm said despite the pandemic its customers continued to spend on automation and environmental projects in 2020.
Maintenance and upgrade activities started to recover in the third quarter, having been impacted by access issues in the summer. However, larger capital projects experienced delays and, in a very few cases, cancellations.
While sales to the water and power sector grew year-on-year, oil & gas and chemical, process & industrial sales declined, reflecting challenging trading conditions and, particularly in the first half, Covid-19 disruption. Both divisions experienced a lower rate of revenue decline in the second half.
The firm said: "Whilst the outlook for our end markets is improving, Covid-19 related uncertainty remains.
"Our production facilities are currently operating largely as normal, we have a solid order book and the considerable flexibility provided by our strong balance sheet. Our investments in IT systems, targeted geographies, innovation and new product development, and aftermarket activities are progressing well and yielding benefits.
"We continue to strengthen our business and are well placed to benefit from recovering demand. We remain committed to delivering sustainable mid to high single digit revenue growth and mid 20s adjusted operating margins over time."