Bath will play host to representatives of a Europe-wide project set up to help develop and promote wellness and well-being in spa and tourism destinations.
The European Weldest project stages its next key, three-day meeting in the city between Wednesday and Friday. The previous meeting was held in Berlin.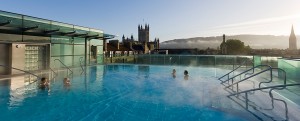 Set up two years ago, Weldest is a European project funded by Erasmus projects for 2012-2014. It aims to create a framework to be used by public bodies, destination management organisations such as Bath Tourism Plus as well as private sector companies to develop the concept of wellness and well-being in spa and tourism destinations.
The project harnesses the expertise of universities and industry partners from Austria, the Czech Republic, Finland, Germany and the UK. It has co-ordinated the knowledge and experience of the partners and carried out primary research with visitors to spa destinations throughout Europe.
The results will provide highly-practical guidelines for developing a more holistic approach to wellness in destinations. This approach not only incorporates the benefits of spa bathing and treatments but also the broader appeal of festivals, leisure and cultural activities.
Wellness tourism is one of the most significant areas of growth in the worldwide tourist industry and is benefitting from huge investment in services, facilities and infrastructure.
Project co-ordinator Susanna Saari, from Turku in Finland, said: "We are looking forward to our meeting in Bath, one of the most historic spa destinations in Europe. Bath will provide a beautiful backdrop to this important meeting of the Weldest project which is reaching conclusions on a framework for developing holistic health and wellbeing in tourism destinations."
Thermae Bath Spa marketing manager Peter Rollins added: "It is great news that Bath is hosting such a pre-eminent meeting in the area of spa and wellness tourism. Bath is realising its potential as one of Europe's premier spa destinations and will undoubtedly benefit from the good practice and knowledge of such experts."
The focus of next week's meeting will be on the creation of educational material, consisting of an e-handbook including definitions and typologies related to health and well-being (H&WB). The educational material will also include Industry case studies and articles illustrating key aspects in becoming a holistic H&WB destination.