Businesses can find out how best to supply goods and services to public sector organisations across the West of England at an event next week.
The annual showcase, organised by Bath & North East Somerset (B&NES) Council, has been running since 2005 and, after two years of being an online event, this year will be held at the University of the West of England (UWE) Enterprise Park on its Frenchay Campus, on Thursday, 2 November.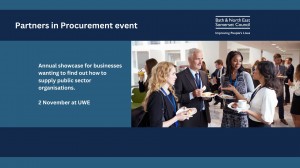 Small and medium-sized businesses will be able to find out about the various elements involved in supplying the public sector, hear stories of successful projects and learn how the rules and regulations will be changing with the implementation of the Procurement Act 2023.
Speakers include Avon Fire & Rescue procurement and supplies manager Tanya Nathan, who will explain how to find procurement opportunities, and Thomas Finn, UWE carbon and supply chain coordinator, who will look at getting started on carbon measurement and reduction.
The event is being held with Partners in Procurement, a network of procurement professionals in the public sector bodies, including the local authorities, police, universities, fire and rescue services and health trusts.
B&NES cabinet member for resources, Cllr Mark Elliott, said: "Procurement can be a driver for change, especially around sustainability and the council's net zero ambitions.
"The council aims to be net zero by 2030 and looks at the carbon footprint and sustainability impacts of all the products and services it procures over their lifetime.
"Channelling a greater proportion of its procurement spending into local small and medium-sized businesses will help to reduce the council's carbon footprint and develop the local economy."
Following the council's announcement of climate and ecological emergencies, a new procurement strategy was developed to echo the corporate strategy.
The 'Think Climate, Think Local, Think Innovation' strategy was adopted in September 2021
B&NES was one of the first local authorities to introduce a social value policy following the introduction of the national Public Service (Social Value) Act in 2012.
The policy was included in the contract with construction firm Farrans, the contractor working on the council's Keynsham Recycling Hub, and ensured the company committed to provide employment, training and supply-chain opportunities during the construction.
The strategy also includes a focus on a more transparent supply chain, which has been reflected in the procurement team's work with Electronics Watch, a specialist NGO, to track the supply chain for all the IT hardware purchased, including desktops and keyboards.
More information and a link to register for the event, which runs from 9am to 1pm, can be found here