The corporate and private client teams at law firm Thrings have been boosted with the appointment of two "outstanding" newly qualified solicitors who have progressed through its trainee scheme.
Sam Longmore has joined Thrings' private client team while Noah Ofulue is now a member of its corporate team. Both will work across the firm's offices in Bristol, Bath and London.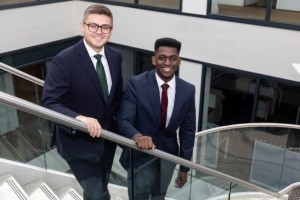 Sam, pictured, left, completed two of his three seats honing his knowledge around private wealth, succession and tax, with his third working as part of the planning and environment team.
Through his appointment, Sam, who is based in Bath, will continue his work to support many of Thrings' high net worth clients, administering complex estates, advising on tax planning, drafting Wills and working with other teams across the firm, including property and agriculture, on matters arising from trusts and estates.
Noah, pictured, right, completed two seats with the firm's corporate team as a trainee, as well as further seats within real estate and in corporate insolvency and restructuring.
In his new role, Noah will continue to advise companies and individuals on a wide variety of corporate transactions such as mergers and acquisitions, private equity, reorganisations and general corporate governance for clients across a range of sectors.
Thrings partner and training principal Fiona Kellow described the pair as "outstanding", saying they had been exemplary during their traineeships.
"I am delighted they are continuing with Thrings now they have qualified," she added.
"It is always pleasing to retain young talent that we have worked hard to develop, and we look forward to seeing them continue to reach their potential."
Thrings private client partner Penelope Munroe said: "Sam has been a remarkable addition to the team, balancing the diligence and efficiency required to effectively manage estates with the personability and compassion needed when dealing with clients at highly sensitive times.
"It is absolutely fantastic to see him join the team permanently following his qualification."
Corporate senior partner Jonathan Payne added: "Having Noah remain with us now he has qualified cements his status as an integral part of the team and we could not be more thrilled.
"During his time with us, he has gained a great deal of experience, supporting on a range of complex deals and has become well versed in providing sound legal advice for all manner of corporate transactions."
Alongside Sam and Noah's qualification, Thrings has also appointed three new trainees – Bailey Wearden, Isobel Gentle and Darcy Lilley – who have already begun work with teams across the firm, which also has offices in Lydney, Romsey, Ross-on-Wye and Swindon.