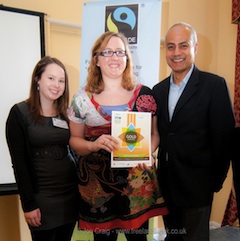 Bath-based charity the Alliance of Religions and Conservation (ARC) has won gold in the UK's first Fairtrade Business Awards.
All tea, coffee and biscuits used at ARC's Kelston Park office are Fairtrade certified. The charity's commitment to and support for Fairtrade landed it the top prize in the award scheme's Office category.
ARC personal and events assistant Pippa Moss and Natalie Hingston, the charity's finance and administration assistant, were presented with the award by BBC newsreader and former Fairtrade patron George Alagiah at a ceremony in Bristol.
Before the awards were made, guests heard from Nicaraguan sesame farmer Sandra Rojas, who spent Fairtrade Fortnight in the UK speaking to schools and other organisations giving a first-hand explanation of how Fairtrade has benefited her farming cooperative and its community.
The $10 per sack premium paid by Fairtrade had enabled Sandra, who often works 10 hours a day, seven days a week, and other members of her cooperative to be trained, to diversify into other crops and send their children to school
Pippa said: "I was proud that we were making a difference to the lives of others.
"Hearing Sandra showed how Fairtrade really makes an impact on the lives of people who produce our food."
Natalie added: "It's especially relevant for us as a conservation charity to keep that ethical perspective. It's not only about the conservation of the planet – it's the people on the planet as well."
ARC, a secular body, helps the world's major religions develop their own environmental programmes based on their own core teachings, beliefs and practices.
It was founded in 1995 by Prince Philip and now works with 11 major faiths through the key traditions within each faith.
Frome Wholefoods won silver in the Retailer category and The Garden Café, Frome, bronze in the Caterer category.
The overall winner was Bristol ethical firm The Bishopston Trading Company.
The awards were sponsored by the Co-operative, with individual categories sponsored by law firms Burges Salmon, TLT and Lyons Davidson. Bath Business News's sister site Bristol Business News was media partner.
George Alagiah told the awards ceremony, staged at Leigh Court, that after nearly three decades as a foreign correspondent he had come to the conclusion that economic empowerment was the best way to help people in the developing world.
"It can lead to good politics but importantly it means people are no longer dependent on the patronage of politicians. It gives them the power to say 'no'," he said.
"The money needs to go to the bottom, rather than the top in the hope it trickles down. It rarely does."
The awards ceremony was supported by Business West, Destination Bristol and Bristol City Council.
The full list of award winners:
Accommodation: Bronze – Radisson Blu Hotel.
Winner – The Greenhouse B&B
Caterer: Bronze – Stoneground Café; The Garden Café, Frome
Silver – Hospitality Services, University of Bristol; A Fair Cup
Winner – UWE Catering Cart
Office: Bronze – Ujima Radio; Stewart Investment Planning
Silver – Grant Thornton; Minuteman Press; Green Hat Graphic Design; Christian Aid West Office; Business West – Leigh Court; Create Centre; Heat Recruitment; Mild West Heroes; Nitty Gritty Guide; Oxfam Campaigns SW
Gold – Lyons Davidson; Revolver Co-operative; the Alliance of Religions and Conservation
Winner – the Essential Trading Co-operative
Retailer: Silver – Bart Spices; Bristol Tea Company; Frome Wholefoods; Pill Post Office; Better Food Company
Gold – John Titcombe; UWE SU Shop; Mosaic
Winner – Lush
ARC administrators Pippa Moss and Natalie Hingston are pictured receiving the Gold Fairtrade Business Award from George Alagiah