A 'buy-a-bag' fundraising campaign has been launched by Bath's Fashion Museum to help raise the £17,500 it needs to pack up and relocate its collection to its new home.
The museum needs 1,400 special archival garment bags by the end of this year ready for its move out of the Assembly Rooms in spring 2023.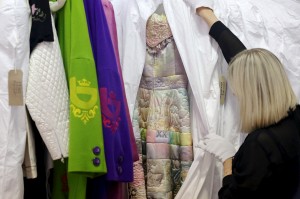 Each bag will protect one item in the collection, which includes women's, men's and children's garments from the 1600s to the present day, from dust, pest and light during and after the transfer to its so-far undecided location.
Donors will be able to buy as many bags as they like and, in exchange, will be able to choose from a range of rewards.
These range from a late-night event next year and private tours of the museum galleries for a £1,000 donation before the fashions on display are carefully packed away for the move.
Other rewards include a Fashion Museum guidebook and tote bag for a £50 donation and a champagne afternoon tea for two in the Pump Room for £500. The minimum donation – which buys one garment bag – is £12.50.
The Fashion Museum, owned by Bath & North East Somerset Council, is one of the world's great museum collections of historical and contemporary fashionable dress and is designated as an outstanding collection by Arts Council England.
The Assembly Rooms, its home for 60 years, will be taken over by owner the National Trust in 2023, meaning the council is now looking for a new site. Several possible locations are currently being considered.
Fashion Museum manager Rosemary Harden said: "The campaign is one of the first ways the public can get involved in this once-in-a-generation move of the collection.
"Packing and protecting the collection properly now means we can share more of it, and in new ways, after the move."
Council cabinet member for children and young people, communities and culture Dine Romero said: "Though we are starting to pack the collection now, there will still be plenty to see at the museum over the next year."
These include Shoephoria! and A History of Fashion in 100 Objects, which will run into 2022, along with a new exhibition next summer.