Handcrafted chocolate producer Choc on Choc, launched 10 years ago by father-and-daughter team Kerr Dunlop and Flo Broughton, has achieved turnover of £1m-plus for the first time.
The firm, based in Rode, near Frome, uses high-quality Belgian chocolate and custom-made silicon moulds to produce intricate designs ranging from miniature ice cream cornets and reindeers, to one-off items for up-market and celebrity customers as well as wedding, birthday and Christmas gifts.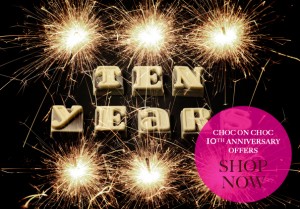 It has built a reputation for perfection and quality which has earned commissions from royalty and a Hollywood movie star as well as orders from high-street retailers such as John Lewis and Boots and supermarkets. It also has a growing online clientele.
The firm started in 2003 around the family kitchen table when Flo, then aged 23, discovered her inventor father messing around with silicon moulds and chocolate.
Kerr, who created the popular hedgehog boot wipers in the 1980s, has since made hundreds of moulds to produce intricate chocolate products.
In 2008 the firm relocated from the family home to a new factory aptly named Chocolate House, a move funded by Barclays.
More than 40 tonnes of handmade chocolate left the factory last year, enough to fill three double decker buses. Exports contributed to its 22% growth with sales to Australia adding to existing markets in Canada, Japan and Europe.
The firm now employs 31 full and part-time staff and is set to hire more in the coming months.
Flo, who graduated in graphic design at the University West of England before setting up the business, said: "It's been a real learning curve over the last decade and the success of the business so far is one which my father and I couldn't have imagined in the early days.
"Having a strong business plan and strategy is key as your business grows as well as ensuring you manage your cashflow tightly. Good open communication with our bank manager has been key to securing help for continued growth. Barclays has been with us every step of the way and is a banking relationship which we have found to be hugely supportive."
Barclays Business Manager in Frome, Brian O'Connor, added: "It's important for us to back businesses such as this which, from humble beginnings, has now developed a brand which is hugely marketable both in the UK and overseas.
"Choc on Choc demonstrates Britain's flare for entrepreneurship and quality and one we will continue to work closely with as the firm continues to build on its strengths."