Bath's independent tourism businesses are battling international online operators and promoting themselves – and the city – through a new collaborative scheme that also aims to boost the local economy.
StayinBath.org has been launched by BIGHA, the Bath Independent Guest House Association, the voluntary membership organisation made up of more than 100 guesthouses, small hotels and self-catering accommodation providers.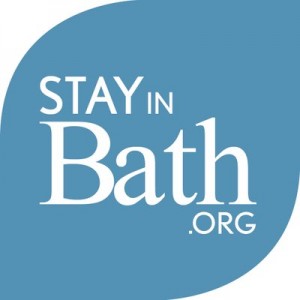 The initiative, which is supported by many of the city's independent retailers and eateries,
gives users the chance to search for accommodation and places to eat, drink and visit during their stay in Bath in the knowledge that their money will stay in the city's economy.
StayinBath's launch event at Komedia Bath heard that while online travel agents (OTAs) such as Booking.com, Expedia and Hotels.com, allow independent accommodation providers to market themselves to a global audience, they have to pay heavily for it.
UK Bed & Breakfast Association chairman David Weston told the event that B&Bs in Bath were sending more than £2m a year back to the US head offices of OTAs as many of them charged between 15% and 18% for bookings taken on their sites.
"Around £1 in every £5 that is spent booking with independent B&Bs in Bath goes to an OTA," he said. "Schemes like StayinBath mean people can book directly with the B&B. That means all the money generated will benefit the local economy and not go into an offshore account."
Last year the association lodged five formal complaints against OTAs with the Competition and Markets Authority claiming clauses were "imposed" on accommodation providers, prices for consumers were driven up with "false discounts" and "false availability claims".
BIGHA has also struck a partnership with Touch Stay, an innovative digital guest welcome product, which means its members will easily be able to connect with guests and provide information, discounts and incentives in 'real time' for the city's many independent retailers.
Guests can also guarantee value for money as booking directly with StayinBath members incurs no third-party booking fees – meaning savings of up to 15%.
Andy McNulty, co-founder of Sussex-based Touch Stay, said: "We're really excited that our app can support associations like StayinBath by connecting guests directly to local, independent businesses. Guests increasingly want to experience local, authentic brands over larger chains and we delighted to be a part of the solution."
BIGHA chair and independent accommodation owner Harry Tedstone added: "Over the last decade, the importance of independent businesses to the Bath economy and the visitor experience has been highlighted on many occasions.
"However, we can no longer solely rely on cash-strapped local authorities, with whom we work closely, to promote and support the independent sector. As with many other stakeholders in the future of Bath, we recognise the need to play our part in maintaining our living heritage.
"As we are all volunteers, we have developed a cost-effective and user-friendly service to act as a shop window for independent Bath to attract the 21st century traveller to our region. Bath is a great place to live, work and visit and the independent offering is all part of that."
Honorary guest at the launch, Bath MP Wera Hobhouse, told the event: "The independent sector in this city really is alive and kicking. The fightback has begun."