Fast-growing Bath-based men's cosmetics firm Shakeup, already the UK's fastest-growing male skincare brand, is aiming for further expansion after securing a six-figure credit line.
The working capital agreement with regional alternative finance lender SWIG Finance has enabled Shakeup to place significant orders with its manufacturers to meet growing product demand.
It has also allowed it to overcome huge rises in raw material and logistics costs and maintain its cashflow.
Since its launch just over four years ago by twins Jake and Shane Xu, pictured below, the firm was pursued a well-executed growth strategy, with its product range sold by high-profile retailers such as Boots as well as a thriving export market in China, Australia and Europe.
The Shakeup range has also been expanded and now spans face wash and moisturiser, blemish balm cream and under-eye concealer.
All its products are UK-made, vegan and not tested on animals.
Currently employing nine people, a further three jobs due to be created as it expands further.
Jake said: "On the heels of a storming year in 2021, we had ambitious plans to keep up with the pace of our growth by launching into more markets and developing more products.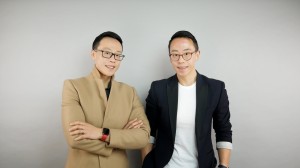 "But of course, the global trading conditions continued to be challenging, then we had geopolitical turmoil, global recession looming over us then the sharp increase in prices of just about everything, from logistics to raw material, from electricity to travel.
"These unprecedented circumstances put a huge amount of pressure on the cash for businesses throughout the country, us included.
"The credit line we have managed to secure with SWIG removes the worry around cash and allows us to focus on growth."
SWIG business manager Rachel Thomson added: "Men's cosmetics is growing in popularity, especially amongst Millennials.
"It's exciting to see Shakeup Cosmetics spearheading the movement and helping more men to embrace skincare.
"As a lender, we were really impressed with Jake and Shane's growth plans. It was clear from the outset that they have well-defined, growth-oriented objectives and knew what they need to do to reach their goals."
SWIG Finance is a non-profit company that supports viable South West businesses that cannot secure sufficient funding from their bank.
In 2021/22 it lent £10.8m to 502 businesses, helping create and secure more than 1,000 jobs and generate £32.3m.
Beijing-born Jake and Shane came to the UK at the age of 18 to study Computing and Business Management respectively at Bath College.
After graduating they worked at Bath-based Future Publishing before setting up their own creative agency Xcetra Media (later rebranded as Ready) in 2007 specialising in breakthrough promotional and tactical marketing campaigns for consumer brands, particularly within the beauty, cosmetics and skincare sectors.
Shortly after launching Shakeup they received equity investment from established entrepreneurs Sally Preston, managing director of Kiddylicious, the UK's fastest-growing children's food firm, and its commercial director Neil Mather.