Bus firm First West of England has pledged that all its vehicles operating in Bath will meet the city's Clean Air Zone when it comes into operation in a month's time.
The firm, Bath's largest bus operator, has a fleet of around 150 buses serving the city. It said that through a combination of buying new buses over recent years and retrofitting older models with low-emission exhaust technology it will escape the financial penalties to be levied on commercial vehicles that do not comply to the Euro 6 standard after the introduction of the zone on March 15.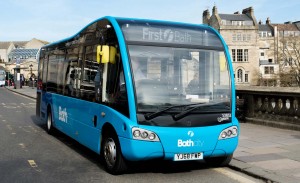 This includes 14 buses bought by First last spring at the cost of more than £3m for use on the popular 39 and X39 Bristol-to-Bath services.
These buses, in their distinctive new Aquae livery, were already Euro 6 compliant while most others that used on routes included in the Clean Air Zone (CAZ) have now been retrofitted.
Bath's CAZ will be first outside London when it goes live. After that all non-compliant trucks, vans, coaches and buses (but not private cars and motorcycles) will be charged to drive in Bath's city centre.
First said fitting its buses with technology that meets the Euro 6 standard means the amount of harmful hydrocarbons and Nitrogen oxides that the buses' diesel engines produce are reduced by up to 95% compared to its oldest buses.
Work on the buses serving Bath is part of a £30m investment programme across the whole of First West of England's 600-plus fleet – which covers Bath, Bristol, South Gloucestershire, North Somerset and parts of Somerset and Wiltshire – aimed at ensuring the firm is at the forefront of cleaner, greener travel in the region.
Across the UK, First Bus now operates more than 1,000 vehicles fitted with new exhaust systems and e-fans that comply with Euro 6 emission requirements – around a fifth of its entire fleet.
It has also pledged not to buy any new diesel buses from 2023 onwards and is committed to operating a zero-emission bus fleet by 2035.
Over the past year it has introduced several new bus models that use alternatives to diesel, including hydrogen, electric and bio-methane – or 'poo-powered' – buses.
Meanwhile, investing in retrofitting was vital, it said, to ensure the full lifecycle of each vehicle was fully utilised while reducing emissions. This, in turn, helped support longer-term clean air ambitions.
First Bus strategy director John Dowie said: "We are committed to doing everything we can to make our buses as environmentally friendly as they can be for the communities we serve.
"We estimate that each retrofit reduces air pollutants and harmful emissions by up to 95%, and this makes a considerable positive impact to air quality for our towns and cities.
"Bus services will be a fundamental part of economic recovery as the UK starts to emerge from the pandemic."
Bath's CAZ has been a long-term ambition of the ruling Liberal-Democrat party on Bath & North East Somerset Council. The council hopes it will urgently drive down high levels of harmful nitrogen dioxide (NO2) pollution in the city, mainly caused by vehicle emissions.
High levels of this type of pollution are associated with worsening lung and heart conditions, such as asthma.
Council joint cabinet member for transport services, Joanna Wright, pictured, said: "We are pleased with the commitment First West of England has shown in ensuring it is complaint ahead of the March 15.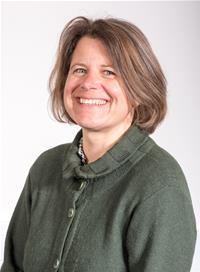 "We can all do something to improve air quality in the city. While charges in the zone only apply to commercial and larger vehicles, we're appealing to everyone to change their travel habits, particularly when Covid restrictions hopefully lift later in the year as people are vaccinated and the pressure on the NHS reduces.
"That could be using the park and ride, taking the bus, or walking or cycling more – particularly on the school run and for shorter trips across the city. To reduce the harmful levels of NO2 in Bath, we're asking everyone to do their bit."
The Euro 6 emissions standard aims to reduce the levels of harmful exhaust emissions from vehicles, including nitrogen oxides (NOx), carbon monoxide, hydrocarbons and particulate matter.
First's converted buses emit 56% less NOx per kilometre and 26% less hydrocarbon and NOx emissions per km.
The firm's retrofit programme has been possible due to government funding and the technical support for the process has been provided by the Energy Saving Trust, the UK organisation devoted to promoting energy efficiency, energy conservation, and the sustainable use of energy.
To find out more about Bath's Clean Air Zone, including a map of the zone, a list of local exemptions and the financial support on offer to support vehicle upgrades, go to www.bathnes.gov.uk/BathCAZ
Top image by Jon Craig