Sports and classic cars will combine with street food in the latest event to be staged by the developers behind a major town centre regeneration scheme.
Innox Mills, a 10-acre brownfield site in the centre of Trowbridge, has already been transformed into a street market and drive-in cinema ahead of 300 homes being built on it, subject to planning.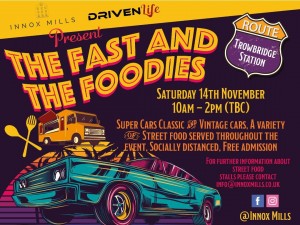 Now the development company, also called Innox Mills, has teamed up with Driven Life, a community for car enthusiasts also based in Trowbridge, to put on The Fast and the Foodies on Saturday November 14.
It will feature super cars, sports and classic cars, plus a variety of street food stalls in association with Dorset-based The Anonymous Travelling Market, a Dorset-based that brings producers and crafters together to create broad artisan markets in unusual locations.
From some of the newest Lamborghinis, Porches and Ferraris to classic British and American cars such as the Capri, Mustang, an American hot rod and a 1933 Austin, there will be all kinds of models on display at the event.
It will run from 10am-2pm next on the historic site, which once housed cloth mills and a Bowyer's pork pie factory, next to Trowbridge Station car park. Social distancing measures will be in place to protect both visitors and stallholders.
Innox Mills director Jonathan Dean said: "We're excited to be bringing this latest event to Innox Mills, which should prove a hit with car enthusiasts, street food lovers – or anyone simply looking for a great day out.
"With so many events cancelled this year, we want to give people the chance to experience something different, while offering a taste of what's to come at Innox Mills.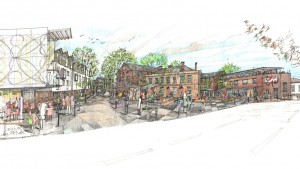 "Our plans have a big emphasis on leisure, food and drink and we hope that the Fast and the Foodies will help to show Trowbridge off as a great place to spend time in."
The event is the latest to be hosted at Innox Mills and follows Cinema Retrow, a pop-up drive-in that drew crowds from the town and surrounding areas, including Bath and Bristol, in August.
The Innox Market, on the third Sunday of each month, runs in partnership with The Anonymous Travelling Market and typically attracts around 3,000 people. The market features handmade arts and crafts and vintage clothing, plus street food, fresh produce and local craft spirits, ciders and ales. Live music and a trampoline activity for children has also been added recently.
Further events at the site will include a Christmas Market from December 4-6, when the historic warehouses on the site will be opened up for the first time in more than a decade to give an idea of how the new Innox Quarter will look and feel like.
A planning application is due to be submitted to Wiltshire Council in the coming months. Ideas being explored, pictured above, include an independent cinema and a co-workspace hub as well as the 300 homes to create a new mixed-use quarter for the town.