A retired wheelchair athlete and technology consultant from Bath who developed a fast, low-cost way to protect carers working with Covid-19 patients has received a £100,000 investment.
Mat Campbell-Hill, pictured, created the AerosolShield mini-isolation tent, put it into production and took the first orders within just seven days. Staff who have used it say they feel safer and less anxious about going to work.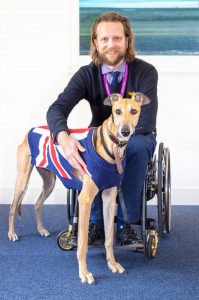 Mat, who competed internationally for Great Britain in wheelchair fencing winning two World Cup medals, and his team have already produced more than 1,000 of them for the NHS with the help of £35,000 from a crowdfunding campaign.
Now they have secured funding to set up a business and scale-up production.
Mat, a senior fellow in Novel Medical Technologies at the University of Birmingham, worked with a team including his university colleague Dr Richard Williams and Dr Egidio Da Silva, a consultant anaesthetist at the Royal Orthopaedic Hospital NHS Foundation Trust in Birmingham.
He also received ongoing clinical guidance from his wife Lydia, a GP and specialist in end-of-life care.
Mat, who has worked across the public, private and third sectors in marketing/sales, media and technology, said: "From the outset, this project has been about protecting our friends and family in the NHS. The end product had to be high quality so that it can be used for extended periods, as well as being lightweight, easy to use and store.
"We believe that in the future, the AerosolShield will become a key piece of kit for GPs, paramedics, hospital intensive care units and care homes, helping to protect key frontline workers through this and future health crises."
The AerosolShield is a transparent, pop-up tent that covers the patient's head and shoulders. It can be deployed in seconds and significantly reduces the chances of carers coming into contact with droplets from the patient's lungs.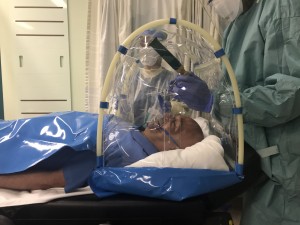 It also provides added protection for frontline staff wearing PPE and hospital porters or carers who do not have access to the highest levels of PPE. As it is produced by an established manufacturer for the NHS, the product meets all required standards for medical use and is highly durable.
The new funding has come from the West Midlands Academic Health Science Network's (WMAHSN) SME Health Innovation Fund, which is managed by Mercia, and MidTECH Innovations to allow them to
Mercia COO Peter Dines said: "The talented team at AerosolShield have done an incredible job to develop the product in such a short space of time and help protect our frontline professionals and carers. We look forward to supporting Mat and his team as they develop a new Midlands-based medical technology business."
WMAHSN head of innovation exchange Tammy Holmes added: "We're so proud that we can provide the means to roll out fantastic innovations such as this to help keep our region safe and healthy. We can't wait to see this new, pioneering technology make a difference to so many workers on the frontline and beyond."