The 60-plus staff at cyber security and technical consultancy SA Group have taken ownership of the business, making it the latest in the growing trend for such moves.
Westbury-based SA Group's founders Steve and Adella Jackson, who started the business in 2009. decided transfer it to a Employee Ownership Trust (EOT) under their succession plan.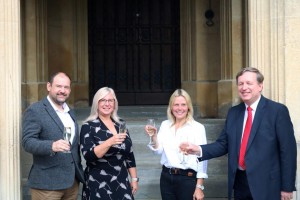 The firm, which helps clients scope and deliver against critical challenges within increasingly complex digital environments, is one of around 750 employee-owned companies in the UK.
The Jacksons considered a range of succession options, with employee ownership coming out top as the best way of safeguarding the vision and culture of the business, maintaining the brand identity, and creating an incentive for employees to be engaged in the growth of the business.
A trustee board will now operate in the best interests of the employees. It will include trustees elected by employees with an independent chair.
Steve Jackson will continue as the CEO and the company will shortly be appointing an independent chair.
Mr Jackson said: "The success of the company so far is down to our loyal and hardworking team, so it was an easy decision to transfer the company over to them.
"Seeing the business continue is incredibly important to both Adella and I, along with looking after our clients whilst continuing to pursue our vision to enable the future of secure communication with digital expertise."
HR director Jeremy Osborne added: "This transaction works for everyone – the founders, the company and the employees – and the transition represents an exciting new era for SA Group.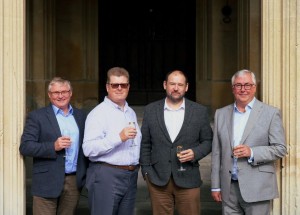 "We're expanding into new business areas and becoming more diverse. Ambition, growth and inclusivity are among some of the core values of the company and I'm looking forward to seeing what lies ahead."
SA Group staff include systems engineers, agile project managers, technical architects and cyber security advisors.
Employee ownership has doubled in the past five years, with around 250 of the UK's 730 employee-owned companies making the transition in the past 18 months.
Notable employee-owned firms incude Bristol-based Aardman Animations, hi-fi retailer Richer Sounds and Riverford Organic Farmers.
Last year Bath architectural firm Simon Morray-Jones Architects, which has been responsible for working on some of the UK's most historic houses and hotels, was bought by its employees.
Pictured, top: From left, SA Group co-founder Steve Jackson, employee trustee director elected by the employees Karen Briddon, Adella Jackson, co-founder, and Simon Clark, also an employee trustee director elected by the employees
Pictured, above: From left, directors Scott Paton and Jeremy Osborne with SA Group co-founder Steve Jackson and employee trustee director Peter Richardson