Bath-based international media group Future's chief financial officer and longest-serving board member Graham Harding is to leave the business.
Mr Harding, pictured, who has been with Future for 13 years, two of them in his current post, will step down after the company's preliminary results in November to pursue other career opportunities.
He will be replaced by Zillah Byng-Maddick, a former chief financial officer and interim chief executive at Trader Media Group, publisher of Auto Trader.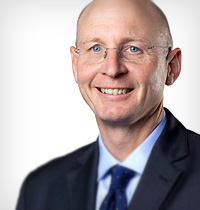 Mr Harding replaced previous finance director John Bowman, who quit with immediate effect in October 2011 along with chief executive Stevie Spring amid a turbulent period for the publisher best known for its computer gaming and hobby titles such as Total Film, T3 and GamesRadar.
Future chief executive Mark Wood said: "We are indebted to Graham for his tremendous contribution to Future's development over many years and in particular his recent success in strengthening the balance sheet. We wish him every success with his future plans."
He joined Future after obtaining a Classics degree from Durham University and training with Price Waterhouse in Bristol and Johannesburg before leaving to join Bath Press Group as group financial controller in 1996. He gained an MBA from Bath University in 1999.
When he arrived at Future in 2000 founder Chris Anderson was still at the helm, having sold it to Pearson for £52.7m in 1994 and bought it back, with a group of investors, four years later for £142m.
Mr Harding worked on a number of acquisitions and disposals for Future in the UK, Australia, Europe and the US as well as debt and equity fund raisings.
Ms Byng-Maddick was CFO at Trader Media Group from 2009 to 2012 and interim CEO from 2012 to 2013. She will join Future on November 1 and formally take over as CFO on November 18. She is a non-executive director at Betfair, the world's largest internet betting, and Mecom, the major European consumer publishing group founded by former Mirror Group chief David Montgomery.
Mr Wood added: "Zillah has an outstanding reputation and her experience of leading a successful and rapid transition from print to digital at Trader Media Group is of enormous value to us at this time. She will help transform Future, accelerating the pace of change, which is key to us building a more profitable digital business."
Ms Byng-Maddick was finance director of Fitness First Group from 2006 to 2009, and prior to that she was CFO of the Thresher Group. She has also previously held senior finance positions with GE Capital and HMV Media Group and qualified as an accountant
with Nestle UK.
Future will present its results for the financial year ended September 30 on November 22 and will issue a trading update as planned in mid-October.