Three former University of Bath students have achieved their dream of getting their pollution mask for commuters, cyclists and runners in cities onto the market.
Best friends Harry Young, Alex Smith, and Elliot Denvir, pictured, who met while studying Economics, were determined to design and manufacture a mask in the UK that combined personality with research-backed innovation.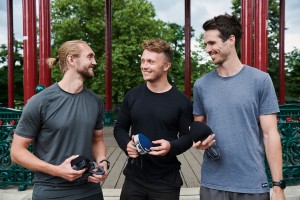 As commuters themselves, they knew all about the pollution encountered by anyone cycling, running – or even walking – in cities.
The socially conscious trio came up with Airhead in 2019 and, following a highly successful Kickstarter campaign, it is now on the market.
Airhead provides maximum comfort and breathability, effective filtration, an airtight fit which prevents leakage, and offers a sustainable alternative to disposable masks.
It is aimed at those who love being active outdoors and to improve their lives when they are on the move around the city.
Harry, Alex and Elliot moved to London after finishing university in Bath but then quit their jobs to work on developing Airhead.
With very little funding, they took to the streets of London to promote it with guerrilla marketing tactics.
They then enlisted the help of a team of industry-leading researchers and scientists from Brunel University to create a mask capable of blocking PM2.5 particulates from the air, as well as tiny particles down to 0.3 microns in diameter.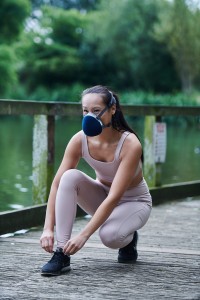 Crucially, Airhead features a TPE seal to ensure no air leakage, as well as rear-facing valves to quickly move hot air away from the face.
The mask also comes with exhalation valve blockers, to make it suitable for use as a Covid face covering in crowded places.
Last year Airhead became an award-winning member of the NatWest Entrepreneur Accelerator and won a government-funded competition to help it expand into India.
Following this success, the company launched its Kickstarter campaign in April to raise £30,000 - a target it hit in just four hours. It raised a total of £315,511, emphasising the demand for pollution protection.
Harry said: "Air pollution is a global health emergency, killing 8.8m people each year. Airhead was born with the vision of creating a face mask that protects people from air pollution, combining performance with comfort and a good look.
"We are delighted to be launching our masks to the general public, and to bring Airhead to the forefront of the pollution protection mask sphere.
"None of this would have been possible without our supporters through Kickstarter, as well as the team at Brunel University and, more recently, our partners at Realise Product Design.
"It has been a long journey to get here, with the three of us even sharing a one-bed flat in the first year, to save money and get the business off the ground – we are over the moon to get to this point."
The mask costs £89 through the Airhead website and is available in blue, grey or black. It comes with two filters, a carry bag and exhalation valve blockers.