Bath on Ice returns for its sixth year next week when the wraps come off the city's biggest ever ice rink in front of the Royal Crescent.
This year's rink will be 1,000 sq metres – a 39% increase on last year – and will again be in Victoria Park. The increase in size has been in the planning for a number of years, according to Bath on Ice, which said the extra skating space would be made more enjoyable because new lace-up boots will be available to hire.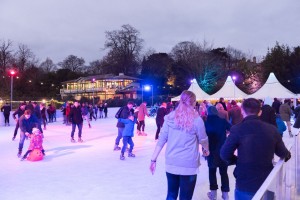 Bath on Ice's glow in the dark mini-golf will also return this Christmas, with the 18-hole course lit up once again with atmospheric lighting.
Skaters and mini-golfers will be able to retreat to the Moguls Alpine Bar after their endeavours for hot mulled wine, wood fired pizzas, deluxe hot chocolates, log burners, warm rugs and a range of beers and wines,
Bath on Ice director Simon Smith said: "We make improvements year on year and we're really excited about Christmas 2018. It will be our biggest rink yet and we hope everyone enjoys all that extra ice.
"Every year we love seeing families and friends come together to have fun and this year will be no exception. With loads of space to skate, comfy new skate boots, new skate aids, glow in the dark mini-golf and a wonderful selection of food and drink at the Moguls Alpine Bar, it will be an amazing experience. We look forward to welcoming everyone back for skating and hot chocolate."
Bath on Ice opens at 5pm on Friday, November 16, and runs until 9.45pm on January 6.
Hours of operation are: November 16 to December 14 – 11.45am to 9.30pm weekdays, 10.30am to 9.30pm weekends. December 15 to January 6, 10.30am to 9.30pm every day. Closed Christmas Day.