Business against Poverty (BaP), the business brand of Trowbridge-based charity People against Poverty (PaP), celebrates a year of growth, new initiatives and increased business support at its annual ball this Saturday at Bath's Bailbrook House Hotel.
BaP was launched in 2009 and is a membership-based initiative that brings together nearly 100 businesses that support the charity either financially or through services.
It works on the basis of a handshake, not a handout, and offers networking and personal/professional development events. This year it has launched the BaP Business Skills Academy and a new UK project, Bridging the Gap.
Many BaP members have been longstanding supporters and devised innovative ways to support the charity. Among them is Bath-based independent designer jeweller and goldsmith Nicholas Wylde, pictured, who has launched the Expressions Collection. Some 10% from sales of items from the collect will be donated to BaP. One signature piece of jewellery from the collection will be auctioned at the BaP ball. Advance bids will be available until 5pm tomorrow.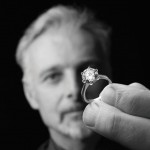 Nicholas Wylde said: "It's always been important to me to operate ethically and find innovative ways through what I do to support causes close to my heart. I've been a member of BaP for several years and donated pieces for auctions in the past. This year, I wanted to find a new way to support the charity, hence the development of the Expressions Collection. The auction piece is a stunning 18ct white gold diamond necklace worth £500 – and the lucky winning bidder will have done so much more than simply bought a beautiful piece of jewellery."
PaP CEO Val Huxley said: "We're immensely grateful to Nic for his commitment to our charity. We work hard to develop strong, personal relationships with our business community and this is a perfect example of our reciprocal ethos. I've had a sneak preview and the Expressions Collection is stunning. I would urge people to pop into his Bath and Bristol shops to take a look."
The piece of jewellery to be auctioned can be viewed on the BaP website, www.businessagainstpoverty.com, and pre-bids can be made by calling 01225 718920.