Bath-headquartered housing association and developer Curo is to build nearly 200 homes on the outskirts of Frome after scaling back an earlier plan with 235.
The firm, which manages more than 13,000 homes and is builds hundreds of new properties a year, has been granted detailed planning permission by Mendip District Council to build 198 homes on land at Sandys Hill Lane.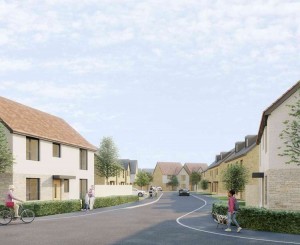 Curo revised an earlier plan submitted last July after meetings with local residents.
The development, to be known as Keyford Meadows, will now include 139 homes for sale, 47 for social rent and 12 for shared ownership under the affordable homeownership scheme.
The properties will range from one-bedroom apartments to five-bedroom family houses, in response to the local demand for housing, while the development will also include two hectares of wildlife habitat and green open space, including two play areas.
A farmhouse and converted barn, earmarked for demolition under the outline planning permission, will now be retained and incorporated into the new residential development, as sought by the community.
Ground works on the site will start this summer with housebuilding beginning this winter.
The first new homes will be ready to move into by next summer while the development is expected to be completed by autumn 2026.
Curo said CO2 emissions from its homes at Keyford Meadows will be slashed by 41% on current Building Regulations and by 10% compared to emerging standards.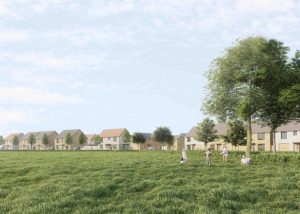 To achieve this, all the properties fitted with gas boilers will also have photovoltaic solar panels to provide greener electricity. A number will have highly efficient air source heat pumps instead of gas boilers.
Curo chief executive Victor da Cunha said the firm would continue to work with the council's planning officers to further refine the landscaping proposals for the development.
"We look forward to starting works on site soon to deliver homes that are beautiful, energy-efficient and sustainable, including the full 30% affordable homes requirement which will be managed by Curo," he added.
"The development will give local people and families more opportunities to stay in an area they're connected to through family, school and work.
"Our social homes will help many families on the council's housing list to live in high-quality, affordable homes while shared ownership will enable young first-time buyers to take a first step on the property ladder."
Curo is currently developing a number of sites across the West of England, including its flagship 700-home Mulberry Park scheme on former MoD land on Bath's outskirts, and, in Bristol, 128 homes in Lawrence Weston, 14 on a disused garage site in Redfield, 32 affordable homes in the city's Old Market district, and a 100% affordable housing development at Filwood with 47 homes.
Last year it secured £160.4m in partnership with an Essex-based housing association to build nearly 2,500 homes over the next five years under the government's latest Affordable Homes Programme.