Medical cannabis company Sativa, the firm behind the Goodbody Wellness retail chain, is poised to become a major player in the fast-growing international cannabinoid (CBD) market after signalling its intention to merge with a specialist Canadian business.
Sativa, based at Beckington, near Frome, said the combination with CBD extraction and agriculture specialist Stillcanna Inc. would create a European 'seed-to-consumer' CBD wellness and medicinal cannabis group.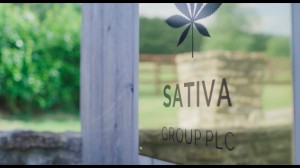 Sativa was formed by a group of West of England entrepreneurs as a vehicle for investment in the rapid expanding CBD market. Its aim is to build the UK's leading CBD wellness brands and develop innovative medicinal and veterinary cannabis products.
It owns the Goodbody Botanicals brand, which is available in many high street stores and pharmacies as well as through its chain of Goodbody Wellness outlets, including in Bath, pictured below, and PhytoVista Laboratories, a leading testing facility for cannabis-based CBD products.
Sativa chief executive Henry Lees-Buckley said the merger with Stillcanna would create a group capable of "cultivating and extracting the highest quality CBD, through to developing and producing the highest-quality finished consumer products".
He said both companies felt strongly that only a fully integrated seed-to-consumer business would have the pricing, products and stability to meet the cannabis market demand in the medium term.
Earlier this week Sativa reported its revenues for the year ended December 31 rose more than five-fold to £1.45m while its gross margins improved to 52% from 42% due to a decrease in the cost of CBD extract and production efficiencies.
The company, which completed a £1.38m share placement and subscription last December, also post revenues of £360,000 for the first quarter of this year – up 49% on the prior-year. Gross profit came in at £210,000 with a 59% margin – ahead of management expectations.
Mr Lees-Buckley said: "While we experienced very solid revenue and gross margin growth in 2019, we were building a strong foundation for accelerating sales in 2020 and beyond. Building leading brands for multiple consumer channels and online is the priority."
Stillcanna is focused on the largescale manufacturing of CBD in Europe and recently signed an initial extraction contract as an exclusive extractor for UK CBD supplier Dragonfly Biosciences.
It also completed the acquisition of multi-generational hemp agricultural firm Olimax in a move expected to increase its market share in the European CBD industry.
It has contracts to secure hemp biomass for extraction at its site in Poland until the end of next year.
Sativa's Goodbody Botanicals brand signed a distribution agreement with Alliance Healthcare, the leader in distribution to independent pharmacies across the UK, and secured its first product listing with WH Smith Travel.
It also started production of cannabigerol (CBG) and alcohol-based hand sanitisers in response to the increased need for hand sanitation as a result of Covid-19
The merger is taking the form of a formal a takeover bid from Canadian-listed Stillcanna. Stillcanna is offering 0.33507 new shares for each Sativa share, valuing the UK company's entire share capital at around £10.66m.
Sativa said its directors intended to unanimously recommend the offer to shareholders and that they had irrevocably undertaken to vote in favour of the deal with their own holdings, representing around 42% of Sativa's shares.
Among Savita's directors is serial entrepreneur Geremy Thomas, who co-founded The Carphone Group in the late 1980s and grew the business to exceed 10% market share before selling to Cable & Wireless for £16m.
This was followed by the creation and listing of PNC Telecom, a telecoms business that at its peak was valued at over £200m. George Banco, a consumer finance business started by Mr Thomas in 2013, was recently sold to Non Standard Finance for £53m.