Bath digital media buying agency SearchStar's Future of Advertising conference series returns to the city later this year with Google set to deliver the keynote presentation.
A follow-up to last year's brilliantly received Data in Advertising conference, pictured, the full-day event – called Growth & Advertising: 2020 and Beyond – is aimed at digital marketers who want to get to grips with the business opportunities on the horizon for advertisers.
It takes place at Bath's Apex Hotel on Thursday October 17.
Previous speakers at SearchStar conferences have included the likes of Amazon, Facebook, YouTube and Sky, as well as a CX consultant to global blue-chip companies, research leader in AI and data science and the much-lauded SearchStar team.
SearchStar, a leading UK independent digital media buying agency with deep analytics and conversion expertise, manages online advertising for some of the UK's biggest household names, as well as SMEs. Its services include PPC, programmatic, analytics, conversion and social media advertising.
SearchStar founder and MD Dan Fallon said: "The pace of change in advertising is still accelerating – an almost unbelievable statement given what we've been through over the last decade.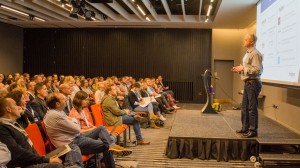 "Machine learning is increasingly ubiquitous across digital advertising, audiences are more important than keywords, and data-driven attribution is finally exposing the power of upper funnel display, social and video advertising.
"Our conference will look at how these changes can best be harnessed to improve campaign performance and drive business growth.
"Growth & Advertising: 2020 and Beyond is the place to be for businesses that want to glimpse the future of advertising."
The full schedule for the event will be released near to October 17.
SearchStar is one of only a small number of Google Marketing Platform certified partners in the UK, as well as a Premier Google partner, Bing Elite Agency partner, multiple RAR Digital Awards winner and Drum Independent Elite Media Buying Agency.