Four new trainee solicitors have been recruited by regional law firm Goughs following continued business growth, taking its total number to eight.
The firm, which has seven offices across Wiltshire, including in Chippenham, Trowbridge, Melksham and Corsham, said the arrival of Gemma Creighton, Megan Solomon, Caoimhe Edwards and Tabitha Stockham, pictured, reflected its policy of encouraging young talent.
Gemma has joined Goughs' real estate team as a commercial property paralegal last year. Having successfully completed her LPC (legal practice course) this year, she is now further developing her legal career at the firm.
She said: "I was delighted to have been offered a role in which I can continue to learn, grow and develop as a lawyer.
"Goughs has been a welcoming environment in which I have been able to thrive. I look forward to what the future holds and continuing to work with clients in the commercial property sector."
Caoimhe has recently been expanding her legal knowledge by working with the private client teams at Bristol law firm Barcan & Kirby and, prior to that, Co-op Legal Services.
She also worked in legal settings while studying, which has given her a strong foundation in business and the legal sector generally.
She said: "I am so excited to be starting my training contract with Goughs and am looking forward to my first seat with the residential property team in Chippenham.
"Being passionate about the local area generally, I liked that Goughs has an excellent reputation and maintains strong ties to the community.
"I've found the team at Goughs to be incredibly welcoming and I look forward to what the future holds."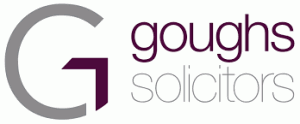 Tabitha has spent the past year studying for her LPC in London but has strong ties to the local area and is now looking forward to developing a successful and progressive career in the South West.
She said: "Having been to school in Bath and growing up locally I have always known about Goughs, so to have been offered a training contract here is really exciting. From day one the Goughs team have been incredibly friendly and helpful."
After gaining a first-class degree in Law and English at the University of Liverpool, Megan received her GDL (Graduate Diploma in Law) with distinction from the University of Law, where she subsequently completed her LPC MSc.
Having also gained work experience with Fussell Wright Solicitors in Bristol, Megan is excited to begin her legal career with Goughs.
"Having spent the last year working hard to complete my LPC, I look forward to putting the knowledge and skills I have developed into practice," she said.
"I am so excited to start my training contract with Goughs given their excellent relationship with and reputation within the community in Wiltshire. Everyone has been so welcoming and approachable and I look forward to what the future holds with the firm."
Following the successful implementation of the programme last year, Goughs has once again arranged for the trainees to spend their first few weeks in its accounts and marketing teams.
This will enable them to have a solid understanding of how the business operates and gain crucial commercial awareness before they begin their legal training. Goughs aims to curate well-rounded individuals and businesspeople as well as trusted advisors.
Established in 1882, Goughs today employs around 100 people providing legal services for both individuals and businesses, including divorce & separation, arrangements for children, employment, Wills, Trusts & Probate, commercial & residential property services and real estate & corporate services.