West of England Metro Mayor Dan Norris has urged the government to bring in a national policy on airport growth as campaigners against Bristol Airport's expansion headed to the High Court to get it overturned.
Mayor Norris, pictured, joined protestors against the expansion outside the court in Bristol as the hearing got under way, telling them the climate emergency needed to be centre stage of reform to the current planning guidelines.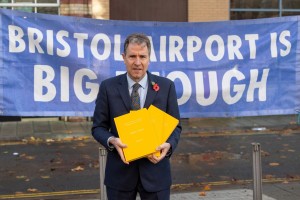 Bristol Airport wants to increase its capacity to handle 12m passengers a year – up from the 10m restriction under its previous planning permission. That would involve expanding the terminal building and increasing car parking.
North Somerset Council's refusal of the scheme two-and-a-half years ago was overturned on appeal by the airport to the government's Planning Inspectorate.
That decision, based partly on the lack of a national airport expansion policy, was welcomed by regional business groups but widely condemned by campaigners and local politicians with Bath MP Wera Hobhouse calling it "a bleak day for our planet".
This week's two-day High Court appeal by anti-expansion umbrella group Bristol Airport Action Network sought to reject the Planning Inspectorate decision, mainly on the grounds of higher emissions from increased air traffic.
Pointing out that the hearing coincided with the COP27 talks taking place this week in Egypt, Mayor Norris slammed what he called a piecemeal approach by the government to airport growth and questioned whether this was consistent with the UK's obligations under the COP21 Paris Agreement.
"If 20 regional airports all individually decide to expand, it would lead to an extra 80m passengers a year," he said.
"But due to a lack of government policy, no consideration is being given to the combined impact of their additional emissions. Treating each regional airport in isolation is artificially minimising the perceived climate impact."
Mayor Norris had opposed the expansion plan in his manifesto and reversed the previous support of the West of England Combined Authority, which he leads, when he was elected.
Bath & North East Somerset, Bristol, South Gloucestershire and North Somerset councils also oppose the expansion.
"If the planet wasn't heating dangerously, if the tech for zero carbon flights existed commercially, if Bristol Airport was at capacity for passengers; if local people wholeheartedly supported the expansion – then maybe there would be an economic argument," Mayor Norris added.
"But that's a lot of 'ifs' and that's not the case. The expansion would drive a coach and horses through our net-zero targets and set a really dangerous precedent when it comes to other airports and their expansion plans.
"It shouldn't go ahead. Yet I fear judges will be hampered by a lack of national airport policy. Local people can see the climate emergency, and the need for action now."
Bristol Airport's owner Ontario Teachers' Pension Plan says the expansion would generate an extra £1.4bn for the regional economy over 10 years and create 800 jobs on-site and a further 5,000 around the region.
The High Court is expected to take several weeks to reach a decision.