A scheme set up to bridge the digital divide by getting laptops to schools, charities and individuals who do not have access to technology has celebrated sending out 1,000 devices.
Wiltshire Digital Drive was born from the success of a laptop recycling project started by Westbury-based Priority IT during lockdown. The scheme recycled unwanted laptops to gift to families who couldn't afford one to help with home schooling.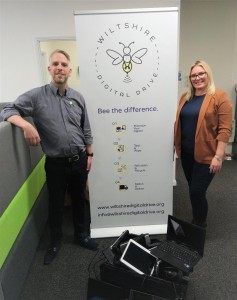 Since January this year, Wiltshire Digital Drive – which is also supported by Corsham-based social media communications agency Naturally Social and Bath-based accountants Turner and Partners – has equipped 1,000 schoolchildren, families and organisations with laptops or other computers.
The milestone brings the total number of people supported to 1,254 since May 2020.
Wiltshire Digital Drive co-director Natalie Sherman, pictured with
Priority IT founder and
Wiltshire Digital Drive co-director
Kieran Thomas,
said: "I can't believe we've got to this milestone already, and for 1,000 of those devices to be redistributed in just one year is incredible.
"It really is down to everyone's generosity with donating their devices and time – we can't thank them enough.
"But it doesn't stop here, there are still so many people that need our help and we've already got our sights set on the next goal."
The 1,000th device was among six micro PCs allocated to St Joseph's Catholic School in Salisbury.
Priority IT founder Kieran Thomas said during the first lockdown he noticed that many schoolchildren were having trouble learning at home due to lack of access to a device.
"Having my own children home schooling during this time made me realise that many families were in the same position but either had to share the device with other family members or didn't have the access to the technology at all," he said.
"It also quickly became apparent that community groups and charities have also been forced to change the way they work and interact differently with the people they support. So, to hit this milestone and help that many people is just amazing."