A manufacturer of plastic moulded litter bins based near Bath has expanded through the acquisition of a firm that makes self-watering planters and street furniture.
Leafield Environmental's takeover of Amberol adds a range of organisations, including local authorities, community gardening groups, businesses, and educational establishments, to its client base.
Formerly known as Linpac Environmental, Corsham-based Leafield Environmental said the move brought together two businesses with a combined eight decades' worth of experience in manufacturing sustainable plastic products.
Derbyshire-based Amberol developed its Aquafeed matting system in the 1970s and today still uses it in its range of self-watering planters and hanging baskets, pictured.
This means the planters only need topping up just once or twice a week – so saving on water and maintenance.
The company, which is retaining its name following the acquisition, also develops a range of recycling and non-recycling litter bins along with benches and picnic tables.
Leafield, one of the UK's leading manufacturers of rotationally moulded litter and recycling bins, pictured, had been actively looking at complementary acquisitions.
It described Amberol's range and ethos was a perfect fit for Leafield's growth plans.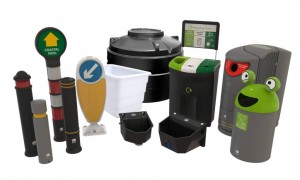 Leafield Environmental managing director Philip Maddox said: "We have been working closely with Patience to ensure that we maintain the Amberol ethos to ensure continuity of experience for their customers.
"We are excited to welcome Amberol's employees to our business and are looking forward to working in collaboration with them."
Amberol, which celebrated its 50th anniversary in 2019, will continue to manufacture its full range of products at its factory in Alfreton with the same team in place.
Amberol managing director Patience Atkinson-Gregory said Leafield was a great fit for Amberol as it had a similar innovative design and manufacturing expertise.
"The only changes customers should notice will be positive ones," she said.
"As a family business, we have built strong and enduring relationships with our customers.
"The Amberol ethos of providing personal service, value for money and high quality products will remain.
"However, the support and investment from Leafield Environmental can only help enhance customer service, as well as strengthening the Amberol brand."
Financial details of the deal have not been disclosed. Law firm Freeths provided legal advice to Leafield Environmental.