Bath-based business coach Robert Craven, described by the Financial Times as 'The Entrepreneurship Guru', is has lanched two major online initiatives this month.
The prolific writer with five best-selling business books to his name has released a new, updated version of Customer Is King – first published in 2002 – on Kindle.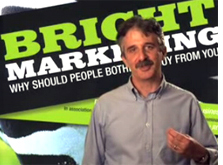 Sir Richard Branson said of the book: "Robert Craven says that 'your whole business hinges on what your customer gets from you'. I wholeheartedly agree." The Kindle version is available at Amazon.co.uk.
Mr Craven, founder of the Bath-based Directors' Centre, has launched an online learning platform based on another of his books, Bright Marketing. The Bright Marketing Academy shows business owners and managers how to grow their sales and profits with a course combining videos, worksheets, audio seminars and chapters from the best-selling book.
It also includes footage of his Bright Marketing seminars that have been delivered to over 15,000 business owners
Mr Craven said: "The reason I do what I do is to help people to grow their businesses. The online offering allows me to be seen, 24/7, in every continent. Going online has opened up entirely new markets for us. The new programmes have already been downloaded in India and Africa as well as in the UK."