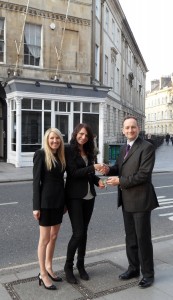 The site of the former Clarke's restaurant in Bath's Argyle Street, which went into administration last year after a short spell as Liberty, has been acquired by city-based hairdressers Dappa.
The four-storey building will become its second city centre salon. The deal was brokered by Colliers International on behalf of LPA Receivers. Colliers' director Simon Wells, based in the property agent's Bristol office, said there had been plenty of interest in the prominent city centre location, which had an asking price of £650,000.
"Interestingly the pace was set by owner-occupiers wanting to own a freehold rather than pay rent. We had more than 20 viewings and no fewer than five offers," he said.
Dappa's Yvonne del Greco, who runs the business with Alina Narnicka, said: "We are delighted to be opening our second salon in such a stunning building that oozes character. It's a great location in keeping with Bath's outstanding reputation.
"We feel the new shop is the perfect size to create something a little different in the market and it will also allow us to build up our cosmetics business Brit's Haircare."
The business's first salon and barbers' shop is in nearby Broad Street.
Pictured are Colliers International's Simon Wells with Yvonne del Greco and Alina Narnicka