Yurt and tipi manufacturer and hire firm Hearthworks is intent on more expansion following a year in which it has achieved strong growth.
The Pilton-based firm, which started as a hobby in 1999 and has nearly doubled turnover every year, now attends 25 festivals a year, hiring out 115 yurts, more than 200 tipis and 100 tipi-style tents.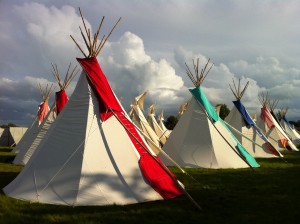 It also makes bespoke yurts and tipis using traditional Kyrgyzstani designs and wood, suitably adapted for the British climate. Its luxury 'glamping' yurts feature decking floors, felt insulation, wood-burning stoves and interior furnishings.
The firm received its big break close to home in 2006 when it was asked to provide 300 tipis for the following year's Glastonbury Festival – despite only having 25 tipis at the time.
The relationship with the world-famous festival has flourished and it now co-ordinates the Tipi Field – one of Glastonbury's legendary Green Fields which celebrate global cultural diversity.
It also supplies festivals such as WOMAD, Sunrise, Shambala, The Secret Garden Party and Bestival, while clients range from star performers – including Radiohead, Roger Waters, Madness and Snoop Dog – to universities, schools, charities, museums and local authorities.
The firm is now looking to increase manufacturing and move into the corporate market – including making eye-catching buildings for expanding businesses – as a way of overcoming the seasonal nature of its hire business.
It recently completed seven interconnected yurts for an outdoor education centre in Milton Keynes which include central areas, dormitories, ensuite bathrooms, platform floors and insulation.
Hearthworks founder Tara Weightman, who started the business off the back of his passion for simple living under canvas, said: "Our goal is to continue growing but still remain a manageable operation, with creativity through everything we do and increasing both the quality and quantity of our products."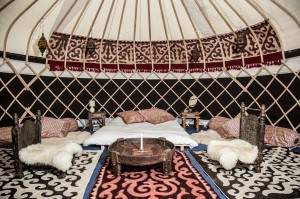 Local crafts are at the heart of Hearthworks' ethos with the majority of components for its yurts and tipis produced by Somerset artisans, including seamstresses, blacksmiths and carpenters. It is also a highly ethical business, re-using or recycling all its waste materials.
The yurts were originally built using steam-bent English ash but after travelling to meet yurt makers in central Asia, Tara started to import traditional felt yurt covers, felt decorations and willow yurt frames from Kyrgyzstan.
The firm has been advised by the West of England accountancy firm Monahans since 2007.
Tara added: "When you're a growing business you have to jump hurdles, particularly around VAT and employing people. We're a small team here at Hearthworks; we have grown due to a love of yurts and tipis and so we didn't have business experience to know exactly what we needed to do.
"Monahans have been great. They're always on the ball with keeping us on track and have been very much part of us growing into the business we are now. They've helped us to manage our cashflow, how to deal with our surplus and planning for the future. As a seasonal business, we're proud to have grown steadily and have matured into a successful, creative, community-focussed business."
Monahans partner Stephen Fry, who is based in the firm's Glastonbury office, said: "Tara has taken something he loves and made it into a thriving business. Being very much a seasonal business presents a number of challenges that we have worked with Tara to ensure he prepared and protected for the future.
"He has worked very hard and deserves the success he is enjoying and we are confident that he will achieve his future targets."