Bath-based licensed giftware wholesaler Half Moon Bay has acquired Warminster homeware and fashion firm Shruti after securing a £3m loan from Barclays.
As a result of the deal Half Moon Bay, whose licensed and themed giftware includes many of the world's top entertainment brands such as Disney, Harry Potter, Superman, Doctor Who and Star Wars, will move its warehouse operation from Westbury to a newly acquired 50,000 sq ft site in Warminster.
It will also use Shruti's showrooms in the town, where it displays its range of furniture, textiles, kitchenware and candles. The Barclays loan will also fund further growth at Half Moon Bay, whose products range from mugs, keyrings and lunchboxes to greetings cards and wall signs.
The also takeover means Half Moon Bay founder and managing director Peter Thompson is now running the business where he began his career in the early 1990s, when it was known as Junction 18. Shruti founder and owner Chris Voisey is to retire after 30 years in the industry and having developed Shruti into a leading supplier of unique homeware, fashion and gifts for the retail trade.
Shruti head of product development Michaela Davies and some staff have transferred to Half Moon Bay, which currently operates from converted stables in Bath city centre and employs more than 50. Following the acquisition its annual turnover of £11m is set to rise to £15m.
Peter Thompson said: "Chris Voisey and I both live in Bath and have always kept in touch, so when Chris said he was looking to retire it made sense to have a close look at the Shruti business.
"Part of our growth strategy is to expand our portfolio of exciting giftware brands and we're delighted to combine the Shruti brand with Half Moon Bay. Shruti is an excellent fit both to this strategy and our existing business and we look forward to working with the team to continue to expand the company's giftware offering and the growth opportunities this will inevitably bring both in the UK and overseas."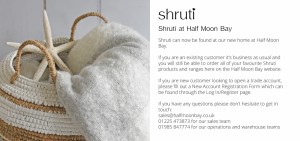 Chris Voisey added: "My journey in the gift industry has been exhilarating, fruitful and sometimes challenging but also one I have thoroughly enjoyed.
"I am delighted that Peter will be taking the business forward and I know his licensing knowledge combined with Michaela's product flair will be a winning combination."
The Shruti deal is Half Moon Bay's second acquisition. In 2008 it took over Robert Opie Trading, which used nostalgic images taken from The Robert Opie Collection on a diverse range of products.
The move took Half Moon Bay into the heritage, museum and traditional giftware retail markets. It went on to work with leading food manufacturers to develop ranges of licensed homeware products using images from brands such as Marmite, Oxo, Walls, Typhoo, Bisto and Birds Custard.
Barclays corporate relationship director for Bath, Martin Crook, said: "This is an exciting time for Half Moon Bay following their second acquisition and we're pleased to have supported another Bath based retail and wholesale business.
"Our strong understanding of the sector ensured we were best placed to assist them with their financing needs, and we look forward to supporting them with their future growth plans."
James Worrall, a partner in regional law firm Royds Withy King's corporate team in Bath, and Bishop Fleming's Bath office advised Half Moon Bay on the acquisition.