Developers behind a major town centre regeneration scheme are to stage a street market and drive-in cinema on the site while they await planning permission for to build 300 homes on it.
Innox Mills, a 10-acre brownfield site in Trowbridge, could become a new mixed-use quarter for the town with food, leisure and retail space and open spaces as well as new housing.
Plans, pictured, for the historic site, which once housed cloth mills and a Bowyer's pork pie factory, could also include an independent cinema and a co-workspace hub.
The development company, also called Innox Mills, is to submit a planning application to Wiltshire Council in the coming months.
In the meantime, the firm is to open a street market and drive-in cinema on the site, which is next to Trowbridge railway station.
It has teamed up with Dorset-based The Anonymous Travelling Market, which operates across the South West, bringing producers and crafters together to create broad artisan markets in unusual locations.
Stalls at Innox Market will sell items ranging from handmade arts and crafts and vintage clothing to street food, fresh produce and West Country ale and cider against a backdrop of live music.
Meanwhile, Cinema Retrow will feature a schedule of 11 films over three days, from family favourites such as Toy Story, Paddington and The Lion King, to iconic '80s titles Back to the Future, Grease and Dirty Dancing. More recent releases to be screened include Joker and Rocketman.
Movie-goers will be able to pre-order food and drink, including freshly cooked hot dogs and burgers from award-winning local street food provider JC's Kitchen, which will be delivered to their cars by rollerblading waiters and waitresses.
Social distancing measures will be in place at the market while Cinema Retrow will be a contactless event with tickets, food and drink ordered online.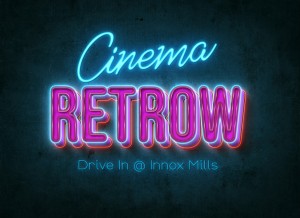 Cars will be also socially distanced and parked at the recommended distance apart, in line with the latest government guidelines.
Innox Market will take place between 10am-4pm on the third Sunday of each month, starting on July 19.
Cinema Retrow will run from August 7-9 and will feature a supersized 60 sq m LED screen and hi-tech, in-car speakers.
Innox Mills director Jonathan Dean said: "We're excited to be launching Innox Market and Cinema Retrow as a taster of things to come at Innox Mills.
"It is our ambition to eventually make the market a permanent weekly fixture within the historic mills building and warehouses with a big emphasis on food and drink – and with outdoor play areas for children.
"We hope this new and exciting quarter will play a role in encouraging people to spend the day in Trowbridge. We're looking forward to welcoming visitors to our new market and helping to show the town off as a great place to live, work and visit.
"The safety of our visitors, cinema staff and stallholders is paramount, so we will have clear social distancing measures in place at both Innox Market and Cinema Retrow and have introduced measures such as pre-ordering food online when buying your film tickets or via an in-car app. We will also ensure that hand sanitisers will be made available for the market as well as clear markings to make sure everyone can maintain a safe distance, whilst enjoying their time."
Cinema Retrow's charity partner is Wiltshire Air Ambulance, which is celebrating its 30th anniversary this year.
Wiltshire Air Ambulance Fundraising Manager Des Regan said: "We're very grateful that Cinema Retrow has chosen to support the lifesaving work of Wiltshire Air Ambulance. The drive-in events at Innox Mills in Trowbridge will be a brilliant opportunity for people to go out and enjoy the cinema again at a safe social distance. I'm sure it will prove extremely popular with the people of Wiltshire."